By Judy Jenkins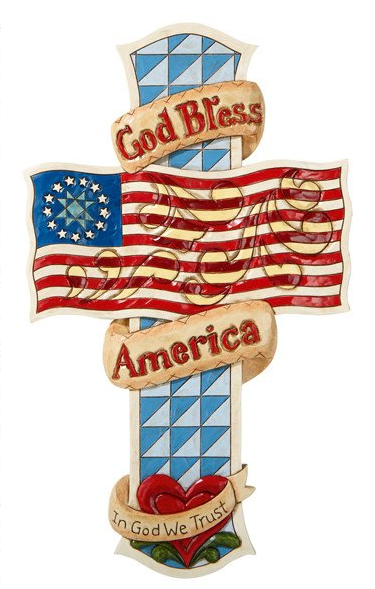 Our country is in trouble in so many ways, financially, morally, and corruption and crime is becoming more and more rampant.  America has always had problems but I am now living at a time where I have never seem so much confusion and chaos!!  My heart is breaking for this country that I love so much!!  I wish more than anything that we could have peace and harmony once again in this beautiful land.  My opinion is that it will never happen unless the people return to God. Only God can solve the mess we are in.  The Lord made it clear in HIS word that if we love and serve HIM, HE will be our protector and bless our land.  Now God has been kicked out of our country and it is just growing worse every day.  I wish that the people of America realized why these bad things are happening to us.  However, I never give up hope.  I pray for our country to return to God!!
There is a beautiful scripture in the Old Testament given to the people of Israel.  It is found in 2 Chronicles 7:14 and says:  "IF MY PEOPLE WHO ARE CALLED BY MY NAME WILL HUMBLE THEMSELVES AND PRAY AND SEEK MY FACE AND TURN FROM THEIR WICKED WAYS, THEN WILL I HEAR FROM HEAVEN AND WILL FORGIVE THEIR SIN AND WILL HEAL THEIR LAND."  I absolutely love this scripture!!  Though God revealed this to the Jewish Nation, I believe it applies as well to those who seek God and want to serve HIM.  Because of my concern for America, I wrote the following song as a plead to us all to do 4 things this prayer requires.  1. Humble ourselves, 2. Pray, 3. Repent and 4. Seek after God.  If we could just follow and do those 4 things, I know America would be back on track and a prosperous and blessed Nation again!!
OUR COUNTRY IS ROTTING FROM DEEP CORRUPTION WITHIN,
HEALING IS NEEDED FROM THE MAGGOTS OF SIN.
THE BUZZARDS ARE CIRCLING ABIDING THEIR TIME,
AS THEY WAIT FOR AMERICA'S FALL AND DECLINE!!
BUT GOD GAVE US A PROMISE IN HIS HOLY WORD,
SOMETHING IMPORTANT FOR US TO OBSERVE,
LIKE ISRAEL HE WILL HEAL OUR LAND TOO,WITH 4 SPECIFIC THINGS THAT WE MUST DO.
CHORUS
4 THINGS, 4 THINGS, YOU TOLD US LORD TO DO,
4 THINGS, 4 THINGS TO SHOW WE LOVE YOU,
4 THINGS 4, THINGS THAT YOU COMMAND,
4 THINGS, 4 THINGS TO HEAL OUR LAND.
LORD YOU TOLD US TO BE HUMBLE,
TO FALL ON OUR KNEES AND PRAY,
CONFESS OUR SINS, FROM THEM TURN AWAY,
SEEK YOUR FACE, FOLLOW AS YOU COMMAND,
THEN AS YOU PROMISED, YOU WILL HEAL OUR LAND.
NEXT VERSE
OH LORD HEAL OUR LAND, PLEASE HEAL OUR LAND,
DON'T REMOVE YOUR LOVING HAND.
DON'T GIVE US OVER TO OUR SINFUL WAYS,
LET US LOOK FORWARD TO JOYFUL DAYS!!
CHORUS
&copy Copyright 2016 , All rights Reserved. Written For:
Judy Lee's Music | Wonderful Heart Warming Music