By Judy Lee Jenkins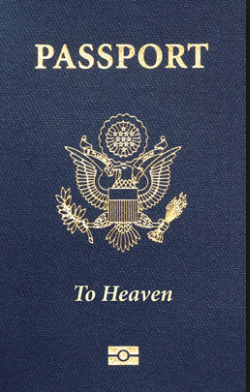 The words of Jesus declare what is necessary for our entrance to heaven.  Notice he didn't list page after page of do's and don'ts but a simple phrase "we must be born again." He went a step further and said that we can't even SEE heaven without this one requirement.  What did Jesus mean?  Even Nicodemus, the Pharisee that admired Jesus didn't understand and asked Jesus how could anyone possibly go back into the womb again.  However, Jesus wasn't speaking of another physical birth.  He was speaking of a spiritual rebirth with God and regeneration of the soul.  That only comes when we encounter Jesus and invite HIM into our lives to take control and make us into "new creatures," with Jesus in complete control of our lives.  Only when Jesus is in complete control of our lives are we able to do anything at all for HIM and HIS glory.
The New Testament has many beautiful stories of those who were never the same after their encounter with Jesus.  Such was the woman at the well who was living in one broken relationship after another with men.  Her life was completely immoral and Jesus knew everything about her when he asked her for a drink of water from the well where she was filling her jars.   During their conversation he invited her to seek the water that would satisfy her forever where she would never thirst again.  He invited her to find out about the LIVING WATER which is Jesus HIMSELF.  She knew that she wanted that LIVING WATER in her life and no doubt became born again with her encounter with Jesus.  She was so elated that she threw down her water pots to tell all the villagers what had just happened to her.
Remember the little guy Zacchaeus?  He was the little obnoxious tax collector that cheated people and kept some of the money for himself.  One day Jesus was coming in his and so he climbed up into the sycamore tree because he wanted to see Jesus.  Jesus knew he was there and called him down and told him that he was coming to his house.  His encounter that day with Jesus changed his entire life.  He restored every dollar he took plus more.  He was a "new creature" in Christ.
Another example is the Apostle Paul.  Before his encounter with Jesus he was out persecuting and killing Christians actually thinking that he was right in what he was doing and that it was for God.  Then he met Jesus on the road to Damascus.  He never was the same after that.  He was a "new creature" in Christ and his name was changed from Saul to Paul.  From that moment on he became one of the greatest apostles, wrote most of the New Testament and suffered many things for Christ, even his death.
So how do we become born again?  How do we personally have an encounter with Jesus?  The apostle Paul tells us in Romans 10:9-13.  It is an invitation to invite Jesus into your lives and follow HIM.  Once you have an encounter with the Lord, you will never want to return to being a worm crawling on the ground again.  You will want to become the butterfly and turn your life over to HIM.   Realizing the importance of the words of Jesus, I wrote and composed the following song:
JESUS CLEARLY TAUGHT WE MUST BE BORN AGAIN,
YET WE TEND TO MINIMIZE WHAT HE SAID BACK THEN,
BUT OUR ENTRANCE TO HEAVEN REQUIRES A 2ND BIRTH,
BEFORE WE DIE WHEN OUR SOULS LEAVE THIS EARTH.
CHORUS
'CAUSE IF BORN TWICE THAN WE DIE ONCE,
BUT BORN ONLY ONCE THEN WE DIE TWICE,
LOSING HEAVEN WILL BE A TREMENDOUS PRICE,
IF WE'RE BORN ONCE INSTEAD OF TWICE.
2ND VERSE
THE FIRST BIRTH IS PHYSICAL FROM THE WOMB OF OUR MOTHER'S LOVE,
THE 2ND BIRTH, SPIRITUAL FROM GOD'S LOVING SPIRIT UP ABOVE  (a total
regeneration-turning away from sin-Angels rejoice when they can write our name in the Lamb's Book of Life because we have come to Jesus and received that life from HIM)
THE FIRST DEATH OCCURS WHEN LIFE TAKES IT TOLL,
BUT A 2ND DEATH MEANS ETERNAL DEATH OF THE SOUL (forever separation from God-only those who are spiritually dead will be at the Great White Throne Judgement-never came to Jesus for life)
BUT IF WE'RE BORN TWICE WHEN OUR TIME COMES TO DIE,
A WONDROUS TRANSFORMATION OCCURS LIKE THE BUTTERFLY,
NO LONGER ARE WE LIKE THE CATERPILLAR CRAWLING ON THE GROUND,
BUT A BEAUTIFUL ETERNAL SOUL NOW HEAVEN BOUND.
INTERLUDE
WE MUST COME TO JESUS TO RECEIVE OUR 2ND BIRTH,
OUR PASSPORT TO HEAVEN WHEN WE LEAVE THIS EARTH,
FOR WE CANNOT ENTER HEAVEN OR IT'S BEAUTY SEE,
UNLESS WE'RE BORN AGAIN WITH CHRIST FOR ALL ETERNITY.
CHORUS
&copy Copyright 2017 , All rights Reserved. Written For:
Judy Lee's Music | Wonderful Heart Warming Music