By Judy Lee Jenkins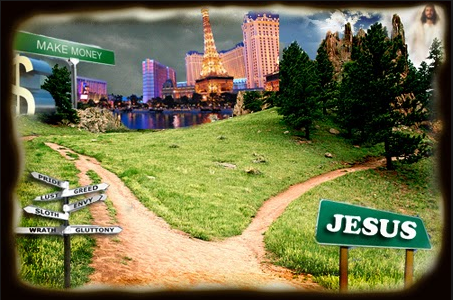 JESUS SPOKE OF TWO GATES
WE CAN CHOOSE TO ENTER,
LIKE TWO ROADS THAT EXIST SIDE BY SIDE,
THE ONE TO THE RIGHT STRAIGHT AND NARROW,
BUT THE ONE TO THE LEFT BROAD AND WIDE.
JESUS WARNED MANY WILL FOLLOW THE WIDE ROAD
'CAUSE IT'S ALLURING AND EASY TO FIND,
BUT ONLY A FEW WILL SEEK THE NARROW ROAD
WHERE EXISTS JOY AND PEACE OF MIND.
CHORUS
TWO GATES, TWO PATHS, WHICH SHALL IT BE?
THE CHOICE OF OUR ROAD OF LIFE,
SETS OUR DESTINY!!
IT'S SO IMPORTANT WHICH PATH WE PLAN TO CHOOSE
OR OUR SOULS AND ETERNAL LIFE
FOREVER WE COULD LOSE!!
2ND VERSE
THE WIDE ROAD LEADS TO DARKNESS AND MISERY
WHERE THE LOST STUMBLE AND FALL,
BUT THE NARROW ROAD TO THE CROSS OF JESUS
WHO DIED TO SAVE US ALL!!
THE WIDE ROAD ENDS WITH DEATH AND DESTRUCTION
WHERE THERE IS MUCH SUFFERING AND STRIFE.
BUT THE NARROW ROAD TO THE STAIRWAY OF HEAVEN
AND THE JOY OF ETERNAL LIFE.
CHORUS
&copy Copyright 2014 , All rights Reserved. Written For:
Judy Lee's Music | Wonderful Heart Warming Music