By Judy Lee Jenkins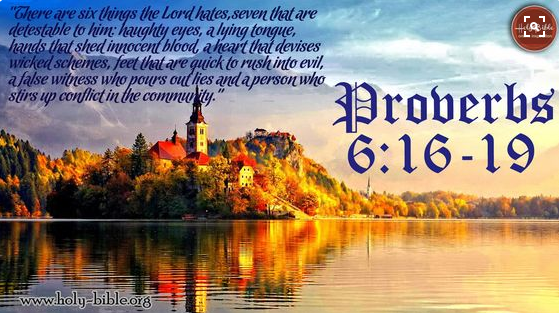 The Bible indeed is our road map to life.  Yet, our country is rejecting it's message.  If only we would open up its pages and read it's life giving words we could avoid the conflicts and battles that we are presently experiencing that are bringing  down our Nation.  If we truly want wisdom and happiness, we should read the contents that are contained within its covers.
God gave King Solomon the gift of wisdom like no other man who has ever lived except our Lord.  His wisdom was so great that the Queen of Sheba traveled from the ends of the earth just to witness his wisdom for herself and left totally amazed!!  King Solomon wrote the Book of Proverbs and has left us tremendous amount of common sense wisdom that would help us avoid the chaotic behavior we see today in our country.
In Chapter 6:16, King Solomon listed 7 things that God hates that man tends to do and those 7 things are presently tearing our Nation apart now. If we could avoid those 7 things, what a wonderful difference it would make in the world and our Nation.  I wanted to bring that message of those 7 things in a song and then end with an admonition to do instead those things that God loves. Those things that God loves are called the fruit of the spirit and are listed in Galatians 5:22.  If only we would strive to do those things instead what a wonderful Country we would have!!
But we are unable to achieve that without a relationship with Jesus.  He gives us that ability!!  Let us also  remember that our God is a loving God and will forgive us of these sins if we humbly repent and forsake them!!  The words to the song are as follows:
THERE ARE 7 THINGS THAT GOD HATES,
7 THINGS HE WON'T TOLERATE,
7 THINGS THAT DEMORALIZE,
7 THINGS FOUND EVIL IN HIS EYES!!
7 THINGS THAT BRING DOWN OUR LAND,
SO AS A NATION WE CAN'T STAND,
7 THINGS THAT CORRUPT EACH HEART,
THAT MAKE HIS LOVING SPIRIT FROM US DEPART.
A PRIDEFUL HEART WITH HAUGHTY EYES,
SUCH A LOOK GOD DOES DESPISE,
A LYING TONGUE, LIPS FULL OF DECEIT,
FAN'S GOD'S ANGER WITH BURNING HEAT!!
INNOCENT BLOOD SO EASILY SHED,
GOD WILL JUDGE WITH TERRIBLE DREAD!!
HEARTS THAT DEVISE WICKED SCHEMES,
GOD DETESTS SUCH THOUGHTS AND DREAMS!!
FEET THAT ARE QUICK TO RUSH INTO EVIL,
GOD KNOWS CAN CAUSE MUCH UPHEAVAL,
A FALSE WITNESS WHO POURS OUT LIES,
GOD WILL TURN AROUND TO ONE' OWN DEMISE.
A MAN WHO STIRS UP DISSENSION AMONG HIS BROTHERS,
CAN CAUSE DESTRUCTION TO MANY OTHERS,
7 THINGS THAT DEMORALIZE,
7 THINGS FOUND SO EVIL IN GOD'S EYES
THESE ARE 7 THINGS THAT GOD HATES,
7 THINGS HE WON'T TOLERATE,
FOR OUR WONDROUS GOD WHO DWELLS ABOVE,
LET'S DO THE THINGS INSTEAD THAT HE LOVES!!  Repeat last verse.
THE FRUIT OF THE SPIRIT IS LOVE, JOY, PEACE,
GENTLENESS, GOODNESS,MEEKNESS, LONG SUFFERING, KINDNESS, FAITHFULNESS AND SELF CONTROL.  LET'S DO THOSE THINGS INSTEAD!!
&copy Copyright 2016 , All rights Reserved. Written For:
Judy Lee's Music | Wonderful Heart Warming Music