By Judy Lee Jenkins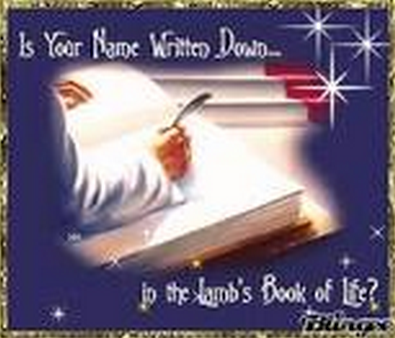 The Lamb's  Book of Life is mentioned in various passages throughout the
New Testament and especially in the Book of Revelation 20-15
called the GREAT WHITE THRONE JUDGEMENT. It is a frightening
passage that indicates if our names our not written in the> Lamb's Book of Life, we will be thrown into the lake of
fire!!  That gets my attention really fast!!  In
Luke:10-20, the disciples were rejoicing that the demons
submitted to the name of Jesus.  Jesus told them not to> rejoice in that but in the fact their names were written in> heaven or the book of life.
From these various passages, we
come to realize how important it is that our name is written> there too.  The next question is how do we get our name> written there?  The scriptures makes it very clear that> in order to even see heaven, we must be born again.  We
must enter a new life with Jesus and cast away the> old.  Jesus said that HE is the way, the truth and the
LIFE.  He continually taught us to come to HIM for LIFE
and to receive it more abundantly.  The scriptures tell> us also that until we do, we remain DEAD in our trespasses> and sins.  If we remain Dead in our sins, we have no> LIFE and no hope to ever be in heaven!!  We must come> to Jesus to receive that new LIFE, and have HIM take away
those sins and then be fruitful for HIM.  He admonished
all those who come to HIM to be a fruitful branch of good> works so that our Father-in-heaven is glorified.  If we
remain chaff that blows in the wind, Jesus said that chaff
gets tossed into the fire.
After mediating on those thoughts, I wrote the following> song:
THE
LAMB'S BOOK OF LIFE
THE THINGS WE GIVE VALUE,
MUCH ATTENTION AND STRIFE,
MAY NOT PUT OUR NAME
IN THE LAMB'S BOOK OF LIFE!!
WE CAN ACHIEVE GREAT POWER,
GLORY, RICHES AND FAME,
BUT IT'S ALL WORTHLESS TO GOD,
IF THIS BOOK HAS NOT OUR NAME!!
thought–Jesus said to seek first the kingdom of God and HE
will bless us with these other things also
WE REMAIN DEAD
IN OUR TRESPASSES AND SINS
UNTIL WE RECEIVE LIFE BY
INVITING JESUS IN.
WITH OUR NEW BIRTH, ETERNAL LIFE
WE NOW RECEIVE
THE MOMENT WE TRUST JESUS
AND IN HIM COME TO BELIEVE.
thought–new birth is from the heart (Romans:10:9-13)
CHORUS
ARE WE LIKE CHAFF IN THE WIND
THAT CAN BURN IN THE FLAMES
OR A FRUITFUL BOUGH
THAT BEARS JESUS NAME?
IF WE COULD PART THE HEAVEN'S
AND TAKE A LOOK,
WOULD OUR NAME BE WRITTEN
IN THIS HEAVENLY BOOK?
THE HOLY SPIRIT FILLS US,
AND SEALS US HIS OWN,
AND RESERVES A PLACE FOR US
IN HIS HEAVENLY HOME!!
THE ANGELS REJOICE
WHEN THEY WRITE EACH NAME DOWN,
BUT WEEP FOR US, WHEN OUR NAME
IN THIS BOOK CAN'T BE FOUND!!
CHORUS–REPEATS TWICE
&copy Copyright 2015 , All rights Reserved. Written For:
Judy Lee's Music | Wonderful Heart Warming Music