By Judy Lee Jenkins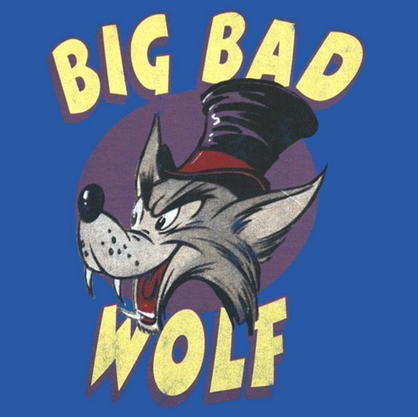 I created this song to go with
the many familiar fairy tale stories
we all grew up with
BEWARE, BEWARE OF THE BIG BAD WOLF,
HE COULD BE LURKING CLOSE BY,
BEWARE BEWARE OF THE BIG BAD WOLF,
HE'S DEVIOUS, TREACHEROUS AND SLY.
HE'S ALWAYS THE VILLAIN IN
THE STORIES I HAVE READ,
HE'S EVIL THROUGH AND THROUGH,
HE'S A CON,A CROOK, A SCHEMER,
AND MUCH MORE COULD BE SAID,
OF THE BAD THINGS HE WILL DO,
SO BEWARE!!
BEWARE OF THE WOLF LITTLE RED RIGING HOOD,
DON'T TAKE COOKIES TO YOUR GRANDMA DEAR,
DON'T WALK ALONE DAY OR NIGHT IN THE WOODS,
'CAUSE HE COULD BE LURKING QUITE NEAR.
AND IF GRANDMA SEEMS A STRANGE SIGHT TO SEE
WITH GREAT BIG TEETH, EARS AND EYES,
WATCH OUT THINGS ARE NOT WHAT THEY SEEM TO BE,
IT'S THE WOLF IN GRANDMA'S DISGUISE,
SO BEWARE!!
BEWARE OF THE WOLF YOU THREE LITTLE PIGS,
NOW THAT YOU ARE ON YOUR OWN.
DON'T SING A SONG OR DANCE A LOT OF JIGS,
HE COULD BE WATCHING YOUR HOME!!
YOUR HOUSE BETTER BE BUILT OF BIG STONG BRICKS,
OR HE WILL BLOW IT DOWN!!
'CAUSE IF IT'S MADE OUT OF STRAW OR STICKS,
IT WILL COME TUMBLING TO THE GROUND!!
SO BEWARE!!
THE BOY WHO CALLED WOLF
ONCE THERE WAS SHEPHERD BOY
WHO LIKED TO CALL WOLF, WOLF,
TO HIS RESCUE CAME THE VILLAGE TOWN.
BUT THE PEOPLE WERE PROVOKED
BECAUSE IT WAS JOKE,
AND THERE WASN'T REALLY A WOLF AROUND!!
BUT THEN ONE DAY THE WOLF REALLY CAME
AND FRIGHTENED THE BOY AND SHEEP,
THE BOY CRIED WOLF BUT ALL IN VAIN,
HE HAD SPUN TOO MANY LIES OF DECEIT
SO BEWARE!!
BEWARE, BEWARE
NEVER TELL A LIE,
REMEMBER WHILE YOU'RE STILL
IN YOUR YOUTH,
THAT IF YOU DECEIVE,
NO ONE WILL BELIEVE,
EVEN IF YOU ARE TELLING THE TRUTH!!
&copy Copyright 2013 , All rights Reserved. Written For:
Judy Lee's Music | Wonderful Heart Warming Music