By Judy Lee Jenkins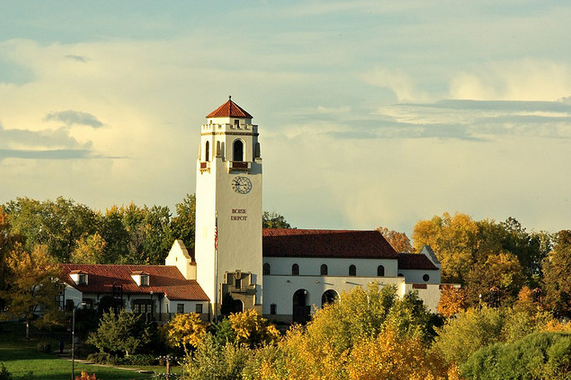 AT THE BASE O
F THE ROCKIES LIES MY HOMETOWN,
AN OASIS IN THE DESERT THAT I HAVE FOUND,
IT'S LUSH GREEN TREES GAVE THE CITY IT'S NAME
AND SIMPLOT'S POTATOES HAVE BROUGHT GROWTH AND FAME.
CHORUS
OH BOISE, BOISE, HOME OF OUR BSU,
AND THE BRONCOS WHO PLAY IN THEIR ORANGE AND BLUE.
BOISE, OUR CITY, WE LOVE AND WE KNOW,
IS THE CAPITAL OF OUR GEM STATE OF IDAHO!!
INTERLUDE
LES BOIS LES BOIS MEANS VALLEY OF TREES,
IS FRENCH FOR OUR CITY WE NOW CALL BOISE.
LES BOIS, LES BOIS, THE CITY I LOVE,
MAY GOD WATCH OVER FROM ABOVE.
Verse 2
MICRON IS HERE WITH IT'S TECHNOLOGY,
MUSEUMS, THE ARTS, WONDROUS SIGHTS TO SEE.
WHETHER A STROLL THROUGH THE PARK OR ALONG THE GREEN BELT,
2
YOU'LL MAKE MANY MEMORIES THAT WILL BE HEARTFELT!!
CHORUS
OH BOISE, BOISE, WHERE OUR FOOTHILLS GET LOTS OF SNOW
TO THE TOP OF BOGUS BASIN WHERE SKIERS ALL GO.
BOISE, OUR CITY, WE LOVE AND WE KNOW,
IS THE CAPITAL OF OUR GEM STATE OF IDAHO!!"
&copy Copyright 2014 , All rights Reserved. Written For:
Judy Lee's Music | Wonderful Heart Warming Music