By Judy Lee Jenkins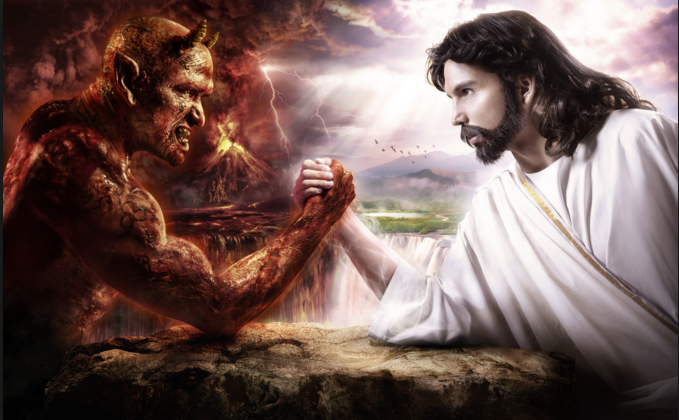 We are living in uncertain times!!!  Wars and rumors of wars, ongoing terrorists attacks, economic problems, hurricanes, tornadoes, and earthquakes are always a threat. In such times, we must keep on and never lose the faith that God is still on HIS throne and aware of all that is happening on earth.  However, have we ever stopped to consider that when we stray away from our creator, we also stray away from HIS hedge of protection around us?I personally feel that when we open the door to Satan, we give Satan the power to take away that hedge.  The more doors we open to our enemy, the weaker is our hedge of protection! Job had a hedge around him because he was a righteous man.  In his particular case God took down the hedge to allow Satan come in.  It was a testing time for Job who proved faithful even when he endured many trials from Satan.  However, in the end, God blessed Job richly for his faithfulness and no doubt put back the hedge.  What about America's hedge of protection?  Is it leaking with holes, like trying to plug up a leaky boat?  Did we once have a very strong hedge because we loved God and gave thanks to HIM in all things?  When we won World War 2 was it because we honored and respected God as a Nation?  Can we say that about us today?  America what has happened to us?
We are definitely in a battle today, of Darkness vs. Light.  Satan loves the Darkness but Jesus is indeed the Light!  Unless we seek out the light of Christ, the darkness will continue to flow into this Nation.  Out of concern for the country I love, I wrote the following song.  I hope this song will stir a revival in all of us to return to our God with honor, praise, love and respect for who HE is.  May we always speak of HIS name with holiness and reverence!!  May we also keep in mind Ephesians 6:11 which says:  "PUT ON THE FULL ARMOR OF GOD SO THAT YOU CAN TAKE YOUR STAND AGAINST THE DEVIL'S  SCHEMES.  FOR OUR STRUGGLE IS NOT AGAINST FLESH AND BLOOD, BUT AGAINST THE AUTHORITIES, AGAINST THE POWERS OF THIS DARK WORLD AND AGAINST THE SPIRITUAL  FORCES OF EVIL IN THE HEAVENLY REALMS."  Jesus has promised in HIS word that there will come the day when HE will return.  Oh let us be ready when HE returns and rejoice at HIS appearing!!
The words to my song are as follow:
DARKNESS IS FALLING ON OUR NATION TODAY,
WINDS OF EVIL BLOWING SWIFTLY OUR WAY,
A HEAVY BLACK CLOUD CONSUMING OUR LAND,
GROWING AS WE REJECT GOD'S LOVING HAND!!
LAWLESSNESS ABOUNDS LIKE NEVER BEFORE,
JESUS KNOCKS BUT WE SLAM THE DOOR!!
UNSEEMLY ACTS DONE IN SHADOWS OF NIGHT,
REJECTING GOD'S WILL WITH GREAT DELIGHT!!
INTERLUDE
WATCH AND PRAY JESUS IS COMING SOON,
WILL WE BE READY TO MEET OUR GROOM?
WATCH AND PRAY HE'S ON HIS WAY
WATCH AND PRAY, COULD BE TODAY!!
CHORUS
OH JESUS DEAR JESUS
HOW WONDROUS YOU ARE!!
OUR GLORIOUS SAVIOR, OUR BRIGHT MORNING STAR,
PLEASE PIERCE THE DARKNESS WITH YOUR HEAVENLY LIGHT,
AND DESTROY ALL EVIL THAT LURKS IN THE NIGHT!!
BRIDGE
WHEN YOU FEEL OPPRESSED
BY THE DARKNESS OF NIGHT,
SEEK OUT GOD'S MOST GLORIOUS LIGHT,
WHEN DARK VOICES  EMERGE FROM THE NIGHT,
LET JESUS HUSH THEM WITH HIS WORDS OF LIGHT!!
OUR HEDGE OF PROTECTION IS FADING AWAY,
REPENTANCE IS NEEDED WITHOUT DELAY!!
AND PRAYERS GIVEN TO RESTORE AND RENEW
THIS LAND OF GOD THAT ONCE WE  KNEW!!
WE NEED TO REPENT,
WE'RE LIVING IN THE LAST DAYS,
DESTRUCTION AWAITS IF
WE DON'T CHANGE OUR WAYS!!
JESUS IS COMING TO JUDGE OUR SINS,
IT'S TIME TO COMMIT OUR LIVES TO HIM!!
CHORUS
&copy Copyright 2015 , All rights Reserved. Written For:
Judy Lee's Music | Wonderful Heart Warming Music