By Judy Lee Jenkins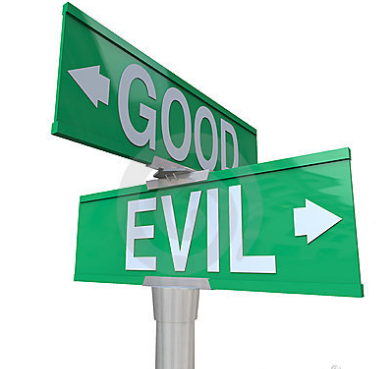 In Isaiah 5:20-21, we will read the following:
"WOE TO THOSE WHO CALL EVIL GOOD,
AND GOOD EVIL,
WHO PUT DARKNESS FOR LIGHT,
AND LIGHT FOR DARKNESS,
WHO PUT BITER FOR SWEET,
AND SWEET FOR BITTER.
WOE TO THOSE WHO ARE WISE IN THEIR OWN EYES,
AND CLEVER IN THEIR OWN SIGHT."
Wow!!  Does this ever speak to me because aren't we doing just that today?!!  Even though this was written to the Jewish Nation long ago even before Christ, sin never changes.  It just repeats itself down through the centuries!!  However, I feel that there was a time we did have a lot of goodness in this Nation but now we are slipping deep into the abyss and reversing good and evil.  That which was evil when I was growing up now is labeled good and that which was good years ago, is now labeled evil!!
Who are we to listen to?  Who are we to believe?  How about God!!  Isn't God the one who makes all the rules and tells you the difference of what HE considers to be good and what HE considers to be evil?  Our culture now is dismissing God and what HE declares to be true in HIS word and man is now becoming the one to determine good vs. evil.  Without God, everything now is upside down and people walk around confused and don't even know what is right or wrong anymore.
The Bible is our guide and road map.  If only we would read it and observe it's truths.  They are truths because God spoke it and said. "I am the way, the TRUTH, and the life."  Pondering on this serious scripture, I wrote the following song:
GOD GAVE MANY WARNINGS TO ISRAEL LONG AGO,
AND WITH EVERY WARNING, HE PRONOUNCED EACH WITH A WOE,
THESE WARNINGS ARE IMPORTANT AND PERTAIN TO US TODAY,
AND IF WE HONOR GOD, HIS COUNCIL WE'LL OBEY.
HIS WORD  WRITTEN IN THE HEAVENS HAS FOREVER STOOD,
AGAINST CALLING GOOD EVIL AND CALLING EVIL GOOD.
WE'RE NOT TO PUT LIGHT FOR DARKNESS OR DARKNESS TO BE LIGHT,
THE DAY THAT RISES WITH THE SUN CANNOT BE CALLED THE NIGHT.
THE DAY CANNOT BE CALLED THE NIGHT,
THE DAY CANNOT BE CALLED THE NIGHT,
WHEN THERE IS LIGHT.
CHORUS
LET'S NOT CALL GOOD EVIL OR CALL EVIL GOOD,
BUT HEED GOD'S WARNINGS AS WE KNOW THAT WE SHOULD,
LET'S NOT CALL LIGHT DARKNESS, OR CALL DARKNESS LIGHT,
WHEN GOD'S WORD SAYS IT'S WRONG, THEN WE KNOW IT ISN'T RIGHT!!
WOE TO US WHO THINK WE ARE CLEVER AND WISE IN OUR OWN EYES,
THAT WE KNOW MORE THAN GOD, THIS HE DOES DESPISE!!
SUCH FOOLISH THOUGHTS AND NOTIONS, WE SHOULD STOP AND SHUN,
OR HIS ANGER WILL BURN AGAINST US AND JUDGEMENT SURE TO COME!!
2nd Verse
ALWAYS BITTER ARE THE LEMONS, ALWAYS SWEET ARE FIGS AND DATES,
TO CALL BITTER AS SWEET ARE ALSO THINGS GOD HATES,
CONFUSION RESULTS WHEN WE CALL THINGS WHAT THEY ARE NOT,
AND GOES AGAINST GOD'S WORD AND THE THINGS THAT JESUS TAUGHT.
LET'S NOT CHALLENGE GOD THAT WE ARE WISER THAN HE,
THE ONE WHO CREATED EVERYTHING AS FAR AS WE CAN SEE!!
IF WE REALIZED HIS POWER AND GREATNESS, WE'D QUICKLY CHANGE OUR TONE, AND SURRENDER ALL WE HAVE FOR HIM AND HUMBLY BOW BEFORE HIS THRONE, HUMBLY BOW BEFORE HIS THRONE WE WOULD, HUMBLY BOW BEFORE HIS THRONE AND PRAISE GOD.
CHORUS
&copy Copyright 2016 , All rights Reserved. Written For:
Judy Lee's Music | Wonderful Heart Warming Music