By Judy Lee Jenkins,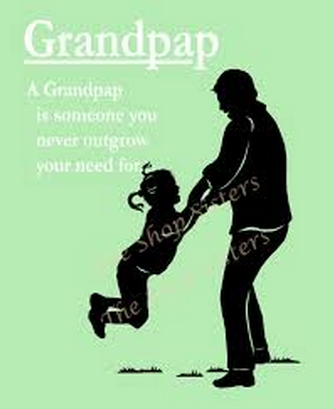 Since this month is the time to think about those we love and maybe even those we have lost, I wanted to share another song that I wrote that maybe you can relate to.
I'm sure we all have family members that we love and have lost. We miss them so much and wish they could still be here among us but we know that is not possible. Yet we still have their memories and cherish the moments that we did have.
The following song tells a story about the love of a grandchild for her grandfather and his love for her. I began this as a very lengthy poem to express the cycle of life. Then I decided to shorten it into a meaningful and expressive song. For those of you who have memories of your own grandparents and even parents who you have cared for, perhaps this song will touch you. Here it is:
WHEN I WAS JUST A CHILD, GRANDPA LIVED IN OUR HOME,
HE WAS JUST TOO OLD TO LIVE ALL ALONE,
I LOVED HIM SO, SUCH A KIND AND GENTLE MAN,
THAT TO HIS LOVING ARMS, I ALWAYS RAN.
VERSE 2
I REMEMBER SO WELL, HIS THICK SILVER HAIR,
AND THE PLACE WHERE HE SAT IN HIS MOST FAVORITE CHAIR.
HE HAD A TWINKLY SMILE AND A SPARKLE IN HIS EYE,
AND HE TAUGHT ME TO BE HONEST AND NEVER TELL A LIE.
CHORUS
HE CALLED ME ANGEL,
HIS LITTLE ANGEL,
OVER ME MADE SUCH A FUSS,
I WAS HIS ANGEL, HIS SPECIAL ANGEL,
I WAS SO GLAD HE CAME TO LIVE WITH US!!
MELODY CHANGE
ONE NIGHT WHILE GETTING READY FOR BED,
I OVER HEARD A PRAYER THAT MY GRANDPA SAID,
HE BEGAN SO HUMBLY WITH PRAISE AND LOVE,
GIVING THANKS TO OUR FATHER UP ABOVE.
(GRANDPA'S PRAYER)
"I'M STRUGGLING LORD IN DIFFERENT WAYS,
THEN I DID BEFORE IN MY MUCH YOUNGER DAYS,
FROM TOP THOSE CLOUDS COULD YOU PLEASE SEND,
STRENGTH AND ENDURANCE TO MAKE IT TO THE END AND
CHORUS
WATCH OVER ANGEL, MY LITTLE ANGEL,
WHEN I'M NO LONGER HERE,
SHE'S MY ANGEL, MY SPECIAL ANGEL,
MY GRANDCHILD EVER SO DEAR!!"
VERSE 4
MELODY CHANGE
THE LORD MUST HAVE REALLY ANSWERED HIS PRAYER
'CAUSE THE VERY NEXT DAY GRANDPA TOOK ME TO THE FAIR,
WE HAD SUCH A GOOD TIME, HE AND I
I NEVER THOUGHT THEN HE WOULD EVER DIE!!
VERSE 5
MELODY CHANGE
BUT WHEN WE GOT HOME HE WANTED TO REST,
SAID HE FELT VERY TIRED AND HAD A PAIN IN HIS CHEST.
"ANGEL RUN ALONG NOW, I'LL BE JUST FINE,
DIDN'T WE CHILD HAVE A WONDERFUL TIME?"
VERSE 6
GRANDPA WENT TO HIS ROOM AND FELL FAST ASLEEP,
FROM THAT MOMENT ON, I NEVER HEARD A PEEP,
IN FACT, HE NEVER WOKE UP AGAIN,
BUT HE HAD STRENGTH AND ENDURANCE TO MAKE TO THE END.
CHORUS
HE CALLED ME ANGEL, HIS SPECIAL ANGEL,
HE WAS SO GOOD IN EVERY WAY!!
HE CALLED ME ANGEL AND NOW GOD'S ANGELS
ARE WITH MY GRANDPA TODAY!!
&copy Copyright 2014 , All rights Reserved. Written For:
Judy Lee's Music | Wonderful Heart Warming Music