Audra Dickson posted a wonderful thought yesterday that I would like to expound on. Today is her birthday also, so I would like wish her a very Happy Birthday!!
Audra said that a garden is like our minds and that seeds are like our thoughts. She then left us a question as to whether those seeds were going to be weeds or flowers. Hopefully we will all be planting flowers.
Spring is almost here now and this is indeed the time to think about planting our gardens, and our flowers. I love Spring because the tulips I previously planted are now beginning to come out of the ground and they are so beautiful. Unfortunately the weeds will also begin to show up as well and it will be time to begin to weed them out!! Oh what a bother they always are!! I wish we never had to deal with them!!
I love to write songs, however, I would like to share a beautiful song with you that I didn't write. This song has been with me since I was child and is about the very thing Audra asked yesterday. There are two verses and this was written by Maryhale Woolsey and arranged by Frances G. Bennett put to an old French melody which is indeed quite beautiful. Here are the words: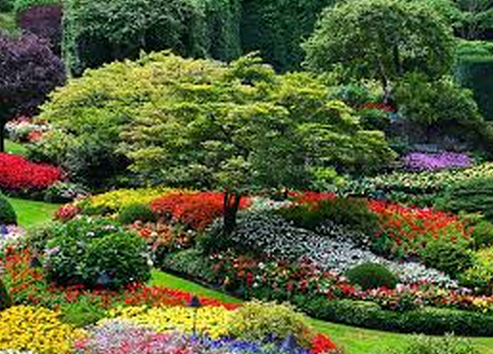 by Maryhale Woolsey
I HAVE A GARDEN
I HAVE A GARDEN, A LOVELY GARDEN, WITH FLOWERS BLOSSOMING EVER FAIR;
WHERE SUN SHINES BRIGHTLY, AND RAIN FALLS LIGHTLY,
AND BREEZES GATHER SWEET FRAGRANCE THERE.
SONGBIRDS COME SINGING OUT OF THE SKY;
BUTTERFLIES WINGING, HOVERING BY;
AND IN MY GARDEN, MY LOVELY GARDEN,
THERE'S ALWAYS BEAUTY TO GREET THE EYE.
verse 2
I HAVE A GARDEN, A SECRET GARDEN, WHERE THOT'S LIKE FLOWERS GROW DAY BY DAY;
'TIS I MUST CHOOSE THEM, AND TEND AND USE THEM,
AND CAST ALL WRONG ONE LIKE WEEDS AWAY.
GOODNESS AND LOVE ARE SEEDS THAT I SOW;
GOD UP ABOVE WILL HELP ME I KNOW,
TO KEEP MY GARDEN, MY HEART'S OWN GARDEN,
A PLACE WHERE BEAUTY WILL ALWAYS GROW.
May we all do as this beautiful song expresses and be able to answer Audra's question. Let's put thoughts of flower seeds and not weed seeds in our hearts and minds which is our own personal garden.
&copy Copyright 2013 , All rights Reserved. Written For:
Judy Lee's Music | Wonderful Heart Warming Music