By Judy Lee Jenkins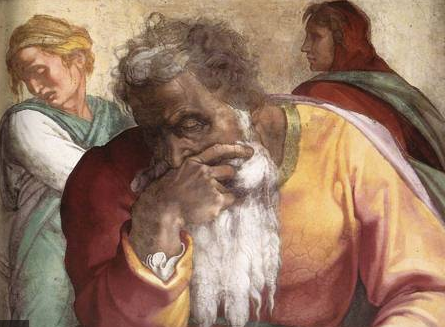 I think the saddest book in the Old Testament is the book of Jeremiah.  Jeremiah lived about 627 BC. and was chosen before he was even born to be a prophet to the Jewish Nations, namely the tribe of Judah.  He was known as the weeping prophet because he was selected not to even marry but concentrate on calling the people to repent.  God's anger had kindled against HIS own people for their extreme wickedness and there were also many false prophets assuring the people that all was well in Zion but not so!!  Jeremiah was called to bring the true message to the people of repentance and that God's judgement would fall if they would not listen.  One of the later Kings of Judah, Zedekiah was one that would not listen and led the people in continued willful sin!!  As promised, judgement fell on God's people and the King of Babylon, Nebuchadnezzar invaded Judah, killed many of the people and King Zedekiah's sons and servants right before his eyes.  Then King Zedekiah's eyes were put out and he was thrown into prison until his death. The people who were not killed such as Daniel were taken in as captives to Babylon for 70 years!!   God's judgement indeed fell and he used their enemies to reign them in.  The very next book of the Bible is Lamentations and we certainly know why!!
How are we different then Judah?  This country has forgotten God and I worry that we too will be judged as God always does with Nations when they become very wicked.  I worry about the extreme wickedness that surrounds us even in our own Nation. Out of these thoughts, I wrote this song:
JEREMIAH WAS CALLED BY GOD, AS A PROPHET LONG AGO,
SENT TO WARN THE JEWISH NATIONS OF IMPENDING DOOM AND WOE!!
BUT ZEDEKIAH WOULDN'T LISTEN AND THE PEOPLE CONTINUED THEIR EVIL WAYS, UNTIL BABYLON FELL UPON THEM AND TOOK THEM AS CAPTIVES ALL THEIR DAYS.
KING ZEDEKIAH TRIED TO FLEE BUT ALONG WITH HIS MEN WAS OVERCOME,
FORCED TO WATCH HIS SONS AND OFFICIALS AS THEY WERE KILLED ONE BY ONE, THEN THEY BOUND THE KING WITH BRONZE SHACKLES AND COMMENCED TO PUT OUT HIS EYES, AFTER BEING THROWN INTO A DUNGEON, IN SORROW HE BEGAN TO REALIZE…
CHORUS
I SHOULD HAVE LISTENED TO JEREMIAH,
BUT NOW FOR ME, IT'S TOO LATE,
IF ONLY WE HAD LISTENED TO JEREMIAH,
WE WOULDN'T HAVE SUFFERED THIS TERRIBLE FATE!!
repeat
2nd verse
WE SHOULD LEARN FROM HISTORY WHAT AMERICA FACES TODAY,
JEREMIAH CALLS OUT FOR US ALSO TO CHANGE OUR WAYS!!
WILL WE BE LIKE KING ZEDEKIAH AND CONTINUE IN WILLFUL SIN?
UNTIL GOD PUNISHES US THE SAME AS ZEDEKIAH FROM OUR ENEMIES WITHOUT OR WITHIN.
I STILL HEAR JEREMIAH CRYING OUT EVEN NOW IN OUR OWN DAYS,
TO REPENT AGAINST THIS GROWING EVIL AND TO QUICKLY CHANGE OUR WAYS!! LET US LISTEN TO JEREMIAH AND PRAY HUMBLY THAT IT'S NOT TOO LATE, SO GOD WILL NOT BRING JUDGEMENT ALSO THAT WOULD BRING A TERRIBLE FATE!!
CHORUS
WE MUST LISTEN TO JEREMIAH,
MUST REPENT BEFORE IT'S TOO LATE,
WE MUST LISTEN TO JEREMIAH ,
SO WE WON'T SUFFER THE SAME TERRIBLE FATE!!
&copy Copyright 2016 , All rights Reserved. Written For:
Judy Lee's Music | Wonderful Heart Warming Music