By Judy Lee Jenkins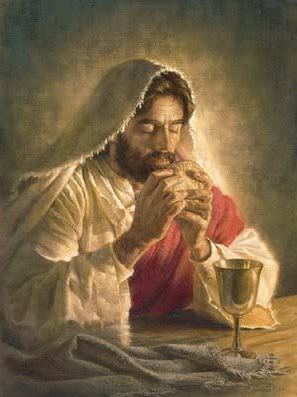 The word LIFE is mentioned in so many places in the New Testament but especially in the Book of John.
In John 14:6, Jesus says, " I am the truth, the way and the LIFE."  In John 10:10, Jesus also says, "I have come that they may have LIFE and have it more abundantly.." To the woman at the well in John 4, Jesus called HIMSELF THE LIVING WATER and that HIS LIVING WATER would bring eternal LIFE to all who would drink it.  HE said those who partake would never thirst again.  To HIS apostles in John 6, HE also referred to HIMSELF as the BREAD OF LIFE.  HE contrasted HIMSELF with the manna God sent from Heaven to sustain their forefathers in the desert.  HE told them that even though this manna sustained them in the desert, they still died.  HE went on to say however, if they would eat the LIVING BREAD, (HIMSELF), they would never be hungry again or ever die.  Of course, we know that Jesus was speaking of spiritual things.  Even though we do hunger and thirst in this life for food and water and still die a physical death, we will never be hungry or thirst
again spiritually if we come to Jesus here.  Instead we will go on in the hereafter to eternal LIFE and be with Jesus forever.   The saying, "To be born once means to die twice but to be born twice means to die only once" hold true for all of us.   In other words, we must be born again in this life (a spiritual birth) to die only once (our physical death) and then go on to eternal LIFE with Jesus.  If we don't receive HIM here, than we will not only die the physcial death here, but also the spiritual death after that which is forever separation from God.  Since God is both our LIGHT and LOVE  that would mean our souls would be separated forever from HIS LOVE and LIGHT and we would perish into darkness without either. Therefore, we need to come to HIM while we are still in this life and not wait until it is too late!! Jesus indeed is our LIFE!!  Jesus indeed in our LIVING WATER and THE LIVING BREAD.  HE also is THE WORD OF LIFE.   I'll save that for
another song.  Reflecting on those thoughts, I wrote the following song:
IN TEACHING HIS APOSTLES,
ONE DAYS JESUS SAID,
THOUGH MANNA FELL FROM HEAVEN,
I AM THE TRUE BREAD.
YOUR FOREFATHERS ATE THE MANNA THAT
RAINED DOWN FROM THE SKY,
THOUGH IT SUSTAINED THEM IN THE DESERT,
YET STILL THEY DID DIE.
I'M THE LIVING BREAD FROM HEAVEN
AND THOSE WHO COME UNTO ME,
WILL HAVE THE GIFT OF LIFE
FOR ALL ETERNITY!!
FEED ON ME, I'LL SUSTAIN YOU
WHEREEVER YOU MAY BE
YOU WILL NEVER BE HUNGRY AGAIN
FOR ALL ETERNITY!!
NO WANT OR THIRST AGAIN
WILL YOU EVER KNOW,
SUSTAINED BY MY LIVING WATER
FROM ME TO YOU NOW FLOWS!!
IN ME IS A FLOWING FOUNTAIN
THAT NEVER RUNS DRY.
DRINK FROM MY LIVING WATER,
AND YOU NEVER WILL DIE!!
CHORUS
COME UNTO ME,
JESUS SAID,
I'M THE LIVING WATER,
I'M THE LIVING BREAD!!
COME UNTO ME,
JESUS SAID,
I'M THE LIVING WATER
I'M THE LIVING BREAD!!
&copy Copyright 2015 , All rights Reserved. Written For:
Judy Lee's Music | Wonderful Heart Warming Music