By Judy Lee Jenkins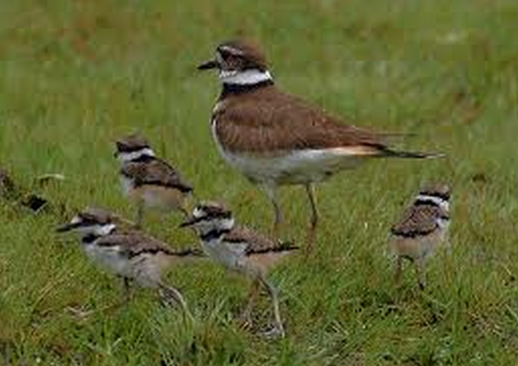 Yesterday Mama Killdeer was still sitting on her eggs but today 4 little fluffballs on stilts are following her around!! It finally happened!! The little ones hatched at last!! I was elated when I saw the little family outside my kitchen window this afternoon!!
Papa was also around. In the midst of concern over our nation and world events, I had something to feel happy about!! However, I saw Mama and Papa upset over a rock chuck that was getting too close to their family. Now I don't see them at all so perhaps they have moved their little ones somewhere else since they sensed danger.
My mama cat is doing just fine with her little ones snuggled still under the window well of our house. She only comes up to eat out of her dish. She is a very good Mama. I also just learned that we have 4 new duck eggs under one of our bushes so there is more family on it's way!! I did happen to see two ducks recently in our yard so that doesn't surprise me too much!! I sure am looking forward to the baby ducks.
All babies are just so cute and precious!! To add to my joy, I also saw my first hummingbird and it looked at me through the window as if to say, "Hey lady, where's the feeder, I know you always put it out around this time!" So I need to make that sweet nectar and put up my feeder right away!! Country life is just so great!!"
&copy Copyright 2014 , All rights Reserved. Written For:
Judy Lee's Music | Wonderful Heart Warming Music