By Judy Lee Jenkins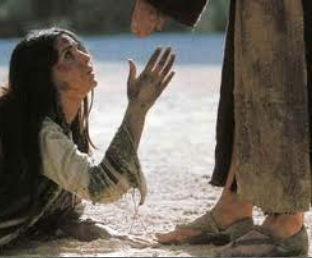 One of the many beautiful stories about Jesus, is the story of the dishelveled woman who was dropped at Jesus' feet, accused of adultry, infact caught in the very act!!  The religious class who had dragged her in could have cared less as to what should happen to her.  They brought her in to entrap Jesus.  They knew that if she was guilty of adultry, that Jesus would have to have her stoned according to the law but they also knew that Jesus was teaching the forgiveness of sins.  They wanted to have a way to pin Jesus to the wall.  If he said stone her, then they could say that Jesus was not teaching forgiveness of sins after all.  However, if he said, let her go, then they could ensare him with the fact he was not keeping the Jewish laws of stoning for this sin. Most of all they wanted to accuse him of blasphemy for going against the Jewish laws that had been tradition all that time.  What did Jesus do?  Jesus reaction to this question is another testimony to me of who HE really is!!   The story is told in the following song that I wrote taken out of John 8:4 and put to music of my own creation and imagination: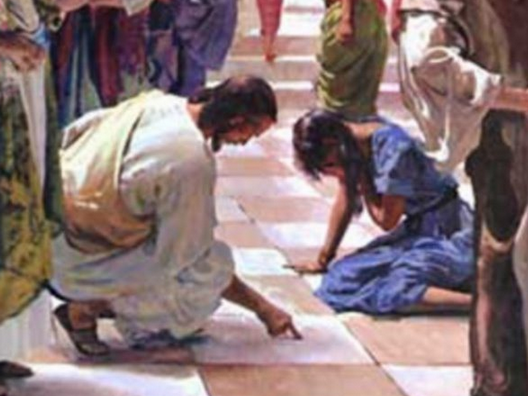 JESUS WAS TEACHING THE PEOPLE ONE DAY,
HIS DISCIPLES WERE EAGER TO HEAR WHAT HE'D SAY.
TO THE TEMPLE GROUNDS A CROWD SOON DREW NEAR,
TO LISTEN TO THEIR LORD, AND SAVIOR  DEAR.
melody change
BUT THE SCRIBES AND PHARISEES TOOK GREAT DELIGHT,
TO SHAME A WOMAN IN EVERYONE'S SIGHT,
SO THEY CAST HER BEFORE JESUS DISGRACED AND AFRAID,
AS ACCUSATIONS AGAINST HER WERE BOLDLY MADE.
THE LAW REQUIRES THAT THIS WOMAN BE STONED
ONLY BY DEATH CAN HER SIN BE ATONED!!
CHORUS
"ADULTEROUS, SHE'S AN ADULTEROUS,
WE KNOW IT FOR A FACT,
ADULTEROUS, SHE'S AN ADULTEROUS,
WE CAUGHT HER IN THE ACT!!"
melody change
"WHAT SAY YOU TEACHER
WHAT JUDGEMENT MAKE YOU?
DO YOU FOLLOW THE LAW AS WE PROUDLY DO?"
JESUS KNEW ALL ALONG THEIR HEARTS WERE CORRUPT
AND WERE LAYING A TRAP TO SET HIM UP!!
IF JESUS CHOSE TO SET THE WOMAN FREE,
THEY HOPED TO ACCUSE HIM OF LAW BREAKING
AND BLASPHEMY!!
BUT IF HE CONDEMNED HER THEY STILL PLANNED TO WIN,
BECAUSE JESUS WAS TEACHING FORGIVENESS OF SIN!!
Original melody
JESUS ANSWERED NOT EVEN ONE SINGLE WORD,
HE KNEW THAT THEIR SCHEME WAS COLD AND ABSURD,
AN ANSWER, AN ANSWER, THEY CONTINUED TO DEMAND,
BUT JESUS INSTEAD WROTE IN THE SAND.
melody change
THEN WITH AUTHORITY IN A FIRM GENTLE TONE,
SAID, "HE WITHOUT SIN LET HIM CAST THE FIRST STONE."
HIS WORDS PIERCED THEIR SOULS LIKE A SHARP BLADED KNIFE,
EACH KNEW THEY WERE GUILTY OF SIN IN THEIR LIFE!!
CHORUS
"SINNERS, WE TOO ARE SINNERS, WE STEAL, CHEAT AND LIE!!
 SINNERS, WE TOO ARE SINNERS,  OF THIS WE CAN'T DENY!!"
melody change
THEN ONE BY ONE EACH DROPPED THEIR STONE,
LEAVING JESUS AND THE WOMAN ALL ALONE,
JESUS ASKED, "WOMAN, WHERE NOW ARE YOUR ACCUSERS?"
"NOT ONE SIR," FOR NONE WERE LEFT TO ABUSE HER.
CHORUS
SINNERS, WE TOO ARE SINNERS,
OF THIS WE CAN'T DENY,
SINNERS, WE TOO ARE SINNERS,
IN OUR PLACE JESUS CHOSE TO DIE!!
original melody
THE WOMAN WHO WAS CONSIDERD A WRETCH AND A HOAR,
HEARD "NEITHER DO I CONDEMN YOU, GO AND SIN NO MORE!"
WE CAN ALL LEARN FROM THIS BEAUTIFUL STORY,
HE FORGIVES US TOO, OUR KING AND LORD OF GLORY!!
CHORUS
FORGIVEN, WE CAN BE FORGIVEN,
NO MATTER WHAT OUR SIN,
FORGIVEN, WE ARE FORGIVEN,
HIS BLOOD CLEANSED US FROM ALL SIN!!
CLOSING
BELIEVE ON JESUS AND INVITE HIM IN!!
&copy Copyright 2014 , All rights Reserved. Written For:
Judy Lee's Music | Wonderful Heart Warming Music