By Judy Lee Jenkins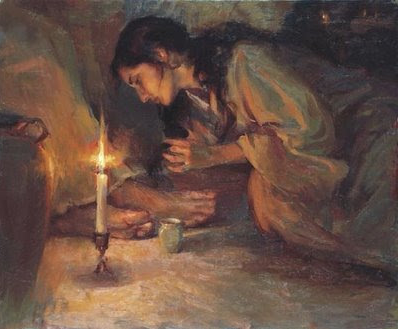 JESUS AND HIS DISCIPLES TRAVELED TO BETHANY ONE DAY,
TO THE HOME OF A WOMAN, WHO INVITED THEM TO STAY.
HER NAME WAS MARTHA AND WITH HER SISTER, MARY TOO,
PLANNED MANY PREPARATIONS, THERE WAS MUCH WORK TO DO.
MELODY CHANGE
SO MARTHA WAS BUSY TOILING, COOKING,
FEELING TIRED WORN AND BEAT.
WHILE MARY CAREFREE, CALM, AND RELAXING,
SAT AT JESUS FEET.
MELODY CHANGE
HER HEART TOOK IN EVERY WORD THAT HE SAID,
WHILE MARTHA IN THE KITCHEN WAS BAKING BREAD.
VERSE 2
MARY LOVED JESUS AND PERCEIVED HIS HOLY LIGHT.
BUT MARTHA, TROUBLED AND WEARY,
WAS ANXIOUS WITH HER PLIGHT!!
SO SHE CRIED OUT TO JESUS,
"OH LORD DON'T YOU EVEN CARE,
THAT MY SISTER IS DISTRACTED,
PLEASE TELL HER TO HELP ME PREPARE!!"
MELODY CHANGE
JESUS REPLIED IN HIS SOFT GENTLE VOICE,
WHICH CHANGED MARTHA'S HEART TO REJOICE AND REJOICE!!
"MARTHA, MARTHA, DO NOT WORRY OR FEAR,
ONLY ONE THING IS REALLY NEEDED HERE.
WHILE YOU WERE TROUBLED WITH THINGS IN YOUR HEART,
MARY HAS CHOSEN THE BETTER PART.
AND THAT WHICH HAPPENED AND JUST DID
OCCUR WILL NEVER BE TAKEN AWAY FROM HER.
CLOSING MARTHA LEARNED A LESSON THAT IS IMPORTANT FOR US TODAY. FOCUS ON THINGS ETERNAL, ALL ELSE WILL FADE AWAY!!
&copy Copyright 2013 , All rights Reserved. Written For:
Judy Lee's Music | Wonderful Heart Warming Music