By Judy Lee Jenkins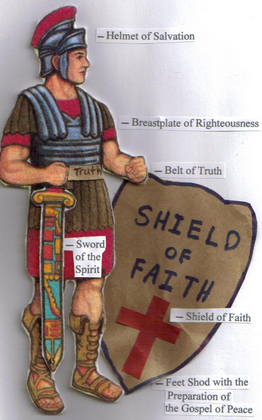 Somewhere in the world there is always conflict and war. Countries have fought one another for years!! Our own country has military bases stationed in many different places. We are always concerned about a conflict somewhere.
Yet even in our own country we are fighting among ourselves. Unfortunately we are becoming more and more a divided Nation but it doesn't stop there.
We are fighting within our own families and there is much contention and domestic violence. These things are a sad but cold reality.
Little do we realize that in another realm or dimension, there is another work at force on the dark side that is controlling all of this. We have an unseen enemy.
Though we cannot see him, he is there to thwart everything that is good. He is our long time adversary, Satan who is out to destroy the good work of God!!
Paul expounds on this in Ephesians 6:10-18. Paul admonishes each of us to always have on our spiritual armor or protection against this spiritual battle. I decided to put Paul's insightful words to prose and music.
OUR SPIRITUAL ARMOR
Words of Paul paraphrased from Ephesians 6:10-18
IN GOD'S MIGHTY POWER,
BE STRONG IN THE LORD,
WITH THE WORD OF OUR GOD
SHARPER THAN A TWO EDGED SWORD.
PUT ON HIS FULL ARMOR
SO YOU CAN ALWAYS WITHSTAND
FIERY DARTS OF OUR ENEMY
WHO ROAMS BOTH SKY AND LAND.
Verse 2
STAND WITH THE BELT OF TRUTH
BUCKLED AROUND YOUR WAIST,
AND THE BREAST PLATE OF RIGHTEOUSNESS
HELD SECURELY IN PLACE.
TAKE THE SHIELD OF FAITH
TO EXTINGUISH ALL THE FLAMES,
AND THE HELMET OF SALVATION
TO FOIL SATAN'S SCHEMES AND GAMES.
interlude
OUR STRUGGLES AND BATTLES
AREN'T AGAINST FLESH AND BLOOD
BUT DARK POWERS ALL AROUND US
THAT CAN DROWN US LIKE A FLOOD!!
WITH THE GOSPEL OF PEACE
WE CAN BE READY ON OUR FEET,
WHEN OUR ENEMY COMES IN
TO MAKE HIM FLEE IN SWIFT RETREAT!!
Verse 3
AND PRAY IN THE SPIRIT
WITHOUT CEASING OR RESTRAINT
WITH MUCH PERSEVERANCE
FOR YOURSELF AND ALL THE SAINTS.
WE ARE FIGHTING A BATTLE
AGAINST THOSE WHO ATTACK OUR LORD
LET'S UPHOLD TRUTH AND RIGHTEOUSNESS
IN HIS POWER AND MIGHTY SWORD!!!!
(Repeat last phrase)
&copy Copyright 2013 , All rights Reserved. Written For:
Judy Lee's Music | Wonderful Heart Warming Music