By Judy Lee Jenkins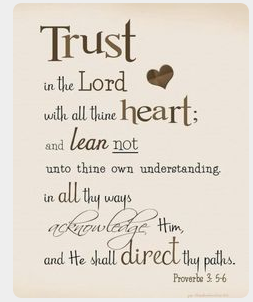 These are troubling times and there are many things to be concerned about.  With an upcoming election we wonder if the candidate that will most likely respect and protect our Constitution be the one to win. We wonder if the terrorists may strike again, or other countries threaten ours. On a domestic level we wonder if we can pay all our bills, or overcome a serious illness. There always seems to be concerns and obstacles to overcome.  All these things cause us distress and worry.  Yet the scriptures give us tremendous comfort about our concerns and worries.
In Mathew 6:25-34, Jesus instructed us not to worry about our lives, what we will eat or drink, or what clothes we put on.  He told us to observe the birds of the air and the lilies of the field.  He says that they don't sow or reap or store food in the barns but God takes care of them and even Solomon in all his glory was not arrayed as one of these.  And Jesus continues to reason that are we not more important to God than them? Do we not have faith, that God will all the more take care of us?
In Philippians 4:6-7, is one of my favorite scriptures concerning worry.  In that passage we read: "DO NOT BE ANXIOUS ABOUT ANYTHING, BUT IN EVERYTHING, BY PRAYER AND PETITION, WITH THANKSGIVING, PRESENT YOUR REQUESTS TO GOD, AND THE PEACE OF GOD, WHICH TRANSCENDS ALL UNDERSTANDING, WILL GUARD YOUR HEARTS AND YOUR MINDS IN CHRIST JESUS."
In 2nd Timothy 1:7, we read, "FOR GOD HATH NOT GIVEN US A SPIRIT OF FEAR; BUT OF POWER, AND LOVE, AND A SOUND MIND."
The scriptures tell us that if we don't trust in the Lord we will be like a bush in the wastelands and not see prosperity when it comes.  We will not know fruitfulness and other wonderful blessings.  However in Jeremiah 17:7, blessings are pronounced upon those who do trust in Him.  "HE WILL BE LIKE A TREE PLANTED BY THE WATER THAT SENDS ITS ROOTS BY THE STREAM, IT DOES NOT FEAR WHEN HEAT COMES; ITS LEAVES ARE ALWAYS GREEN, IT HAS NOT WORRIES IN A YEAR OF DROUGHT AND NEVER FAILS TO BEAR FRUIT."
WOW!!  How great is that?!!  If only we could control our worries and fears and trust in Him and realize such blessings are the promise HE gave us!! Thus we would not be wringing our hands but have perfect peace!!  He has also promised to direct our paths and be our shield and buckler and strength in trying times.  Let us commit all our ways unto him and reap these wonderful blessings!!
Thinking on these things I wrote the following song.  The words are as follows:
IF WE TRUSTED IN JESUS, OUR LORD AND OUR KING,
WE WOULD NOT BE ANXIOUS OVER ANYTHING,
WE'D MAKE OUR FAITH GREATER THAN ANY FEAR,
AND OUR NEEDLESS WORRIES WOULD DISAPPEAR.
THE LORD HAS NOT GIVEN US A SPIRIT OF FEAR,
BUT A SOLID ASSURANCE HE'S WITH US AND NEAR.
TRUSTING IN HIM JOYOUS BLESSINGS WE'LL FIND,
OF POWER, LOVE, AND A VERY STRONG MIND.
CHORUS
IF WE'RE FILLED WITH THE SPIRIT WHEN WE PRAY,
WE'D GIVE THANKS AND PRAISE TO GOD EACH DAY,
AND THE PEACE OF GOD THAT TRANSCENDS ALL ELSE TOO,
WILL GUARD OUR HEARTS AND MINDS RENEW.
2ND VERSE
HE TOLD US NOT TO WORRY ABOUT WHAT WE'LL EAT OR WEAR,
BUT TO OBSERVE THE LILIES OF THE FIELD AND BIRDS OF THE AIR,
THEY DON'T SEW OR REAP, NOR FOOD STORE AWAY,
YET SOLOMON IN ALL HIS GLORY WAS NOT SO ARRAYED.
WORRYING JESUS SAID WON'T ADD ONE HOUR TO OUR LIFE,
AND RESULTS ONLY IN NEEDLESS ANXIETY AND STRIFE,
IF THE LORD TAKES CARE OF HIS CREATIONS WITH ASSURANCE WE CAN TRUST,EVEN ALL THE MORE TO TAKE CARE OF US.
CHORUS
REPEAT OF FIRST VERSE TWICE