By Judy Lee Jenkins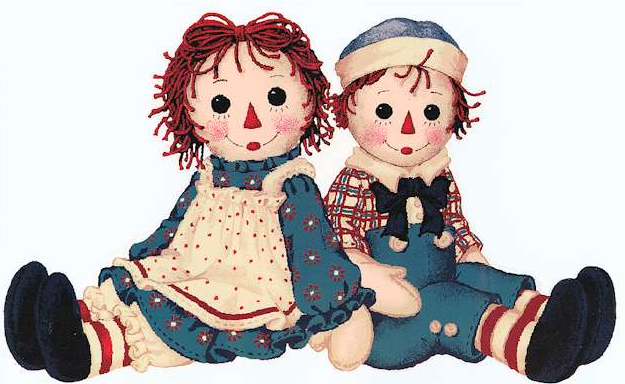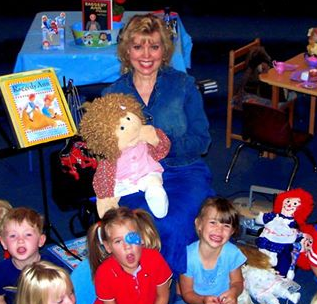 RAGGEDY ANN AND ANDY,
DO YOU REMEMBER THIS SPECIAL PAIR?
STORIES WERE WRITTEN OF THEM LONG AGO AND ADVENTURES
THEY DID SHARE.
RAGGEDY ANN AND ANDY WITH THEIR BLACK BOOT BUTTON EYES,
ARE SOLD IN TOY SHOPS EVERYWHERE,
THEY COME IN EVERY SIZE.
1915 WAS THE YEAR,
A LONG LONG TIME AGO,
THAT A FATHER WROTE STORIES OF HIS DAUGHTER'S FAVORITE DOLL,
BECAUSE HE LOVED HER SO!!
NOW MARCELLA WAS THE DAUGHTER WHO ADORED HER DOLL
WITH THE BRIGHT RED ORANGE YARN HAIR,
SO HER DADDY TOLD HER STORIES OF THE DOLL SHE LOVED TO BRING HER JOY
AND LOVING CARE.
SOON OTHER FRIENDS JOINED RAGGEDY ANN
WHOM MARCELLA THOUGHT QUITE DANDY,
BUT SHE WAS DELIGHTED WHEN HER DOLL GOT A BROTHER
BY THE NAME OF RAGGEDY ANDY!!
RAGGEDY ANN AND ANDY ARE STILL WITH US TODAY
TO TOUCH THE LIVES OF CHILDREN IN EVERY SINGLE WAY!!
INTERLUDE
SUNG BY THE TWO DOLL PUPPETS (RAGGEDY ANN AND ANDY)
LIKE BIRDS OF A FEATHER,
WE STICK TOGETHER,
SHARING ADVENTURES AS WE GO ALONG OUR WAY.
WHATEVER THE WEATHER,
WE'RE ALWAYS TOGETHER,
HAVING FUN WITH EVERY COMING DAY!!
&copy Copyright 2013 , All rights Reserved. Written For:
Judy Lee's Music | Wonderful Heart Warming Music