By Judy Lee Jenkins,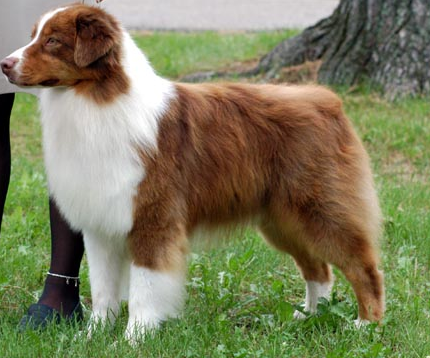 Riley was a Australian female Shepherd dog with a beautiful red coat. She belonged to our Ranch family, the Winegars, Jeff and Michelle and their young daughter, Brennan who was around 10 at the time. They have another daughter Carly who at that time was already married so was not at home.
The Winegars are a wonderful family and we have enjoyed them on our ranch for a number of years. They have helped us a lot with farming and taking care of our various farm animals such as cattle, horses and chickens. We appreciate them so much!! When they first arrived we couldn't help but notice their loving dog, Riley. She was always with them and often Brennan would take her on her 4 wheeler when she rode about the ranch or the dog would be running behind.
Brennan was especially bonded with their family dog. Michelle once told me that dogs were just made for humans to love and they have such a wonderful capacity to love you back. One couldn't help but notice the great affection they had for their dog as so many dog and animal lovers have for their pets. You who have pets no doubt understand that bond. They are a part of your family.
Sometimes sad things just happen. Jeff was backing his pickup out of his driveway one day and didn't see Riley. It's bad enough to have a stranger run over your dog but horrible when you run over your own dog. Brennan saw it happen and her eyes became full of tears. For awhile she couldn't be comforted. I watched her as she cried on her dad's shoulder and her dad feeling horrible for killing the family's best friend.
That eve. we buried Riley on our ranch under the stars. Jeff and my husband, Darol even built a small wooden coffin for her. Brennan picked the spot and we had our own special funeral service. Everyone was sad but Brennan was especially grieved. We really don't know what happens to animals when they die but we like to believe that we will see them again in heaven.
To help comfort Brennan and the family I wrote the following words to a poem and then put it to a pretty melody. Those of you who have pets you love might understand the loss they felt that eve. Here is the song I wrote for them and would now like to share with my Facebook friends:
"RILEY WHERE ARE YOU? OUR DOG AND FRIEND SO TRUE, WE ALL GOT ALONG JUST FINE, BUT YOU STAYED TOO SHORT A TIME!! WE BURIED YOU TONIGHT AS THE STARS GAVE OFF THEIR LIGHT, RILEY, WE MISS YOU!! RILEY, YOU ALWAYS MADE ME GLAD, BUT NOW I'M FEELING VERY SAD, ARE YOU SOMEWHERE UP ABOVE? YOU GAVE OUR FAMILY SO MUCH LOVE!! WE PUT THE ROCKS AROUND, WHERE WE LAID YOU GENTLY IN THE GROUND, BUT ARE YOU REALLY THERE? DO YOU KNOW HOW MUCH WE CARE?!! RILEY WHERE ARE YOU? OUR DOG AND FRIEND SO TRUE, RILEY, WE LOVE YOU!! RILEY, IT'S OKAY, FOR NOW YOU'RE JUST AWAY, AND WE'LL SEE YOU AGAIN SOMEDAY!!"
&copy Copyright 2013 , All rights Reserved. Written For:
Judy Lee's Music | Wonderful Heart Warming Music