By Judy Lee Jenkins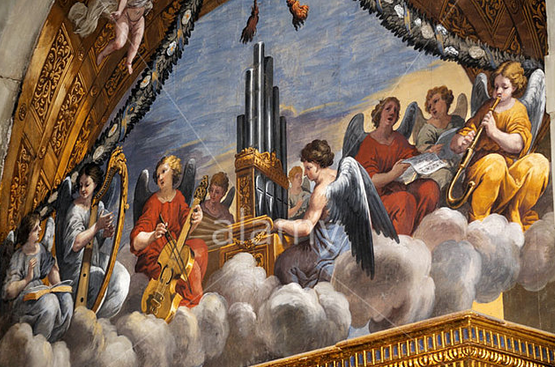 As Christians and those who love Jesus, we all look forward to that place HE has prepared for us in Heaven.  We know without doubt it will be beautiful with unimagible beauty of colors, flowers, streets of gold, etc.  The Book of Revelations gives us a little glimpse.  Among the beauty of the things we will be able to see, I believe that we will also hear beautiful music!!  I think we will hear a choir of angels singing and praising God like nothing we have ever heard before!!  Even if we have never enjoyed singing here, I think all of us will join in the Heavenly Choirs and be given the gift of singing with the angels!!
As a child I loved to hear my mom and dad sing in the car on the way from a trip.  My dad loved to harmonize while singing with mom.  It made our trips so much more fun and enjoyable and the trips seemed shorter!!  I decided to combine two types of songs that could be fun to sing on trips.  One is called SING YOUR WAY HOME written by Gladys Pitcher and the other is called LIFT UP YOUR VOICE AND SING by
Richard C. Berg.  My grandkids enjoyed singing this song with me the last time they came for a visit.  Here are the lyrics to both songs.
SING YOUR WAY HOME
AT THE CLOSE OF THE DAY,
SING YOUR WAY HOME,
DRIVE THE SHADOWS AWAY.
SMILE EVERY MILE,
BUT WHER-EVER YOU ROAM,
IT WILL BRIGHTEN YOUR ROAD,
IT WILL LIGHTEN YOUR LOAD,
IF YOU SING YOUR WAY HOME.
LIFT UP YOUR VOICE AND SING
A SONG IS A WONDERFUL KIND OF THING,
SO LIFT UP YOUR VOICE AND SING!
JUST START A GLAD SONG,
LET IT FLOAT,
LET IT RING,
AND LIFT UP YOUR VOICE AND SING!
WE SHALL MAKE MUSIC TO BRIGHTEN THE DAY,
MUSIC WILL HELP US TO LIGHTEN THE WAY;
LIFT UP YOUR VOICE!
LIFT UP YOUR VOICE!
LIFT UP YOUR VOICE AND SING!
&copy Copyright 2015 , All rights Reserved. Written For:
Judy Lee's Music | Wonderful Heart Warming Music