by Judy Lee Jenkins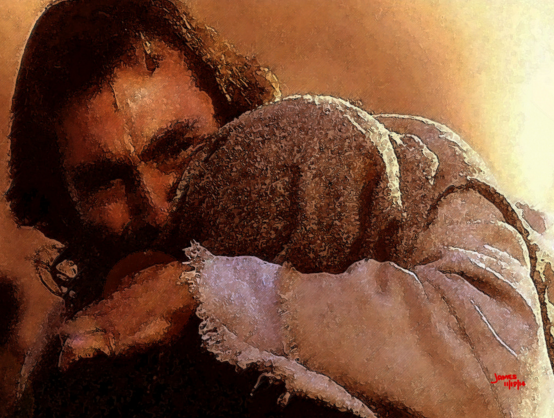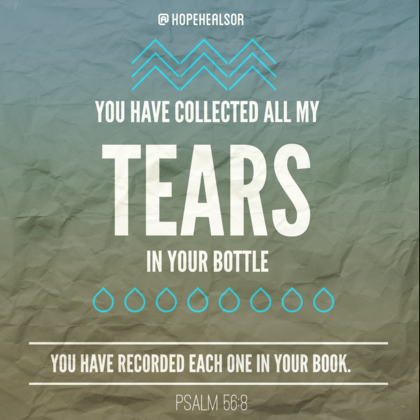 Jesus told us that in this life we would experience trials and tribulation.  If I could change one thing in this world it would be that no one would have to go through any kind of sorrow.  However, that is not the way life is.  Sorrow and tribulation began with the Fall.  In the beginning our first parents lived in a paradise world.  They had no idea what sorrow even was until the day they sinned and were cast out.  Then all their troubles began.  No longer would they be able to just pick their food off the vines or trees.  They would have to experience the toil of working hard for their food, planting and fighting the obnoxious weeds.  They would experience the pain of child birth and then the heartbreak of losing their son, Able. However, we can rejoice when Jesus told us that he overcame the world and its sorrows when he went to the cross.
When Jesus walked on the earth even though he was sinless, he himself experienced much sorrow and grief, far more than any of us could bear.  Jesus had to endure the sins of the world for us all!!  How can we even comprehend the sorrow and grief he felt on the cross when his Father could not even look upon him as he carried all of our sins!!  When Jesus cried out, "Father, Father, why hast thou forsaken me?", he was in deep deep agony and this he bore for us all!!    Isaiah 53-54:3 says…"a man of sorrows, and acquainted with grief: we hid as it were our faces from him; he was despised, and we esteemed him not. Surely he hath borne our griefs, and carried our sorrows; yet we did esteem him stricken, smitten of God, and afflicted."
That means more than ever Jesus can identity with our sorrows like no other!!  He even keeps all our tears in his special bottle for us in Heaven and no doubt mingled with his own tears. Though deity, he can identify with us.  He keeps record of all our tears and one day he will make everything that was wrong here right with us in heaven. He will wipe away all our tears!!  In Psalms 56:8, King David writes, "Thou tellest my wanderings: put thou my tears into thy bottle; are they not in thy book?"  What a comfort those words are to us who have gone through much sorrow and grief.  One day there will be no more of any of this when we are with our glorious Savior who overcame the curse of the world!!
Losing our loved ones here is perhaps the hardest of all trials.  Not one of us can escape that kind of loss.  But as Christians we can look forward to reuniting with them in heaven!!  That is indeed a joy to look forward to.  I already have a baby and other loved ones I can't wait to reunite with.  These last few days, however, I have been very sorrowed with the direction of our nation and the horrible events occurring around the world almost on a daily basis.  I feel like evil is overcoming goodness and the world seems to be on fire spiritually!!  However, I do know that one day goodness will triumph over all of this.  My soul longs for goodness to prevail!!  Out of my own sorrows, I wrote the song, TEARS IN A BOTTLE.  This song expresses the desperation of my soul for all these wrongs to be made right.  The words are as follows:
OH LORD DO YOU HEAR MY SOBBINGS,
AS I KNEEL IN HUMBLE PRAYER?
MY HEART'S SO VEXED WITH SORROW,
AND MY SOUL IN DEEP DESPAIR!!
AND THE TEARS THAT SOAK MY PILLOW,
HAVE YOU STORED UP IN A JAR?
TO LET ME KNOW YOU LOVE ME,
THAT YOU CARE, YOU'RE NEAR NOT FAR!
OH LORD KEEP ME IN YOUR LOVE,
AS I WEATHER OUT THIS STORM,
RESTORE THE JOY I FELT LONG AGO,
WHEN I WAS FIRST REBORN. (repeat last line)
YOU KEEP TRACK OF ALL MY SORROWS,
AND RECORD THEM IN YOUR BOOK,
YOU COLLECT EVERY TEAR THAT FALLS,
AND IF I COULD TAKE A LOOK,
I WOULD SEE A BOTTLE YOU HAVE SAVED
THAT IS MINE ALONE,
THAT CONTAINS EVERY TEAR I'VE SHED
PLEASE DON'T LET ME PERISH
IN ANGUISH, FEAR AND PAIN,
REMIND ME THAT
YOU'RE STILL ON THE THRONE,
AND IN GLORY FOREVER REIGN, (repeat last line)
LOLLIPOPS AND SUNSHINE
ARE SLIPPING FAR AWAY,
DARKNESS TAKING OVER,
IN MY LIFE EACH DAY!
EVIL AND CORRUPTION EVERYWHERE I TURN,
THE WORLD IS UPSIDE DOWN ON FIRE,
PLEASE DON'T LET ME BURN!! (repeat)
SNATCH ME AWAY, SNATCH ME AWAY FROM IT'S FLAMES!!
&copy Copyright 2016 , All rights Reserved. Written For:
Judy Lee's Music | Wonderful Heart Warming Music