By Judy Lee Jenkins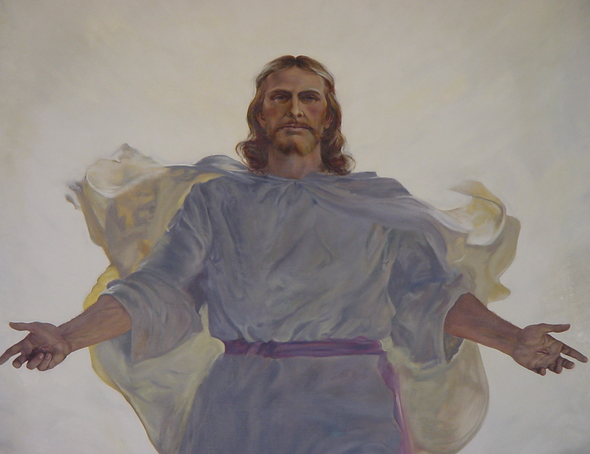 Song–Based on the hope
Christians have in the 2nd coming
of our Lord and 1 Thessalonians :4:17
and my own imagination
ONCE UPON A MOONLIT NIGHT,
I BEHELD AN AWESOME SIGHT,
RIGHT BEFORE MY VERY EYES,
DESCENDING FROM THE EASTERN SKIES,
WAS JESUS, IT WAS MY JESUS.
BRIGHTER FAR THAN NOONDAY SUN,
IN SPLENDOROUS GLORY DID HE COME,
SEEKING OUT HIS VERY OWN
COMING BACK TO TAKE US HOME,
WAS JESUS, IT WAS MY JESUS!!
MELODY CHANGE
JESUS DIED AT CALVARY,
HE GAVE HIS LIFE FOR YOU AND ME.
HE PAID THE PRICE TO SET US FREE,
AND NOW HE REIGNS IN VICTORY!!
VERSE 2
WITH THE SOUND OF THE TRUMPET,
THE ANGEL CRIED,
THE GROOM HAS COME
TO CLAIM HIS BRIDE.
HE'S JESUS, THE GROOM IS JESUS!!
THE DAY OF THE LORD NOW IS HERE,
IF YOU ARE PREPARED,
YOU NEED NOT FEAR,
IT'S JESUS, IT IS OUR JESUS!!
MELODY CHANGE
HE MADE MY SINS AS WHITE AS SNOW,
NO THIRST AGAIN, I'LL NEVER KNOW,
THE GIFT OF LIFE HE OFFERED ME,
WHEN I DRANK FROM HIS WELL OF ETERNITY!!
VERSE 3
TEARS WENT STREAMING DOWN MY EYES
AS I MET MY SAVIOR IN THE SKIES,
MY JESUS, MY PRECIOUS JESUS!!
HE SAID TO ME, "YOU ARE MY OWN
AND I HAVE COME TO TAKE YOU HOME,
MY DAUGHTER, MY PRECIOUS DAUGHTER."
MELODY CHANGE
JESUS LIVES FOR YOU AND ME.
HE CONQUERED DEATH AT CALVARY.
WITH GLORIOUS ANGELS WE'LL FOREVER SING,
PRAISES TO OUR GOD AND KING!!
&copy Copyright 2013 , All rights Reserved. Written For:
Judy Lee's Music | Wonderful Heart Warming Music