By
Judy Lee Jenkins
One morning I could hear
a melody going through
my head like a train going
down the tracks and next
thing I know I was writing
a shooting up western
type of song–perhaps
from watching some old
Clint Eastwood movies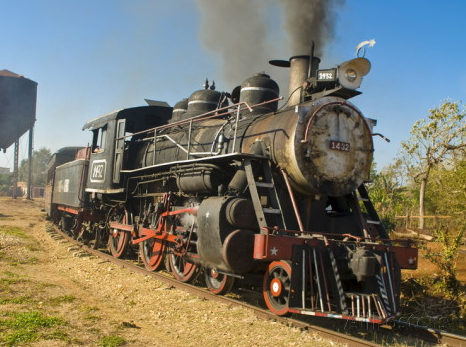 FAST TRAIN'S A COMING
IT'S COMING TODAY,
OOO, OOO, IT'S ON IT'S WAY,
ROLLING QUICKLY ALONG THE TRACK,
OOO, OOO, NO TURNING BACK.
MELODY CHANGE
BILLY JOE IS ON THE TRAIN,
AROUND THESE PARTS,
WE KNOW HIS NAME.
HE'S KILLED MANY A MAN WHO
CROSSED HIS PATH.
HIS HEART IS COLD
AND FULL OF WRATH.
VERSE 2
FAST TRAIN'S A COMING,
IT'S ALMOST HERE,
OOO, OOO, TOWN FOLKS ALL FEAR,
THEY SAY HE IS BRINGING
ALL HIS MEN,
OOO, OOO, NUMBERED MORE THEN TEN.
MELODY CHANGE
THE MARSHAL'S BEEN WARNED
TO GET OUT OF TOWN,
'CAUSE BILLY AND HIS BOYS
PLAN TO GUN HIM DOWN!!
BUT THE MARSHAL KNOWS
HE'S GOTTA STAY,
CAUSE ONLY A COWARD
WOULD RUN AWAY!!
VERSE 3
TRAIN IS SCHEDULED
TO ARRIVE AT NOON,
OOO,OOO, IT WILL BE SOON.
TOWN FOLKS HAVE CLEARED,
SOME ARE LAYING LOW.
AND OUT OF SIGHT
TO WATCH THE SHOW.
MELODY CHANGE
NOONE COMES TO THE MARSHAL'S AID
'CAUSE THE FOLKS AROUND
ARE JUST TOO AFRAID!!
SO HE STRAPS ON HIS SIX GUN,
WIPES THE SWEAT FROM HIS BROW,
BAD BILLY WILL ARRIVE
JUST MOMENTS FROM NOW!!
VERSE 4
AS THE CLOCK STRIKES TWELVE,
BILLY STEPS OFF THE TRAIN,
READY AGAIN TO SPREAD HIS FAME.
FOR THOSE WHO STAYED ,
THERE IS NO TIME TO RUN,
BILLY AND HIS BOYS
ARE OUT FOR FUN!!
MELODY CHANGE
THEY SHOOT UP THE TOWN
AND HAVE THEIR WAY,
PILLAGING ALL OF THOSE
WHO DECIDED TO STAY.
THEY TRY TO DESTROY
EVERYTHING IN SIGHT,
THEN MOCK THE MARSHALL
TO COME OUT AND FIGHT!!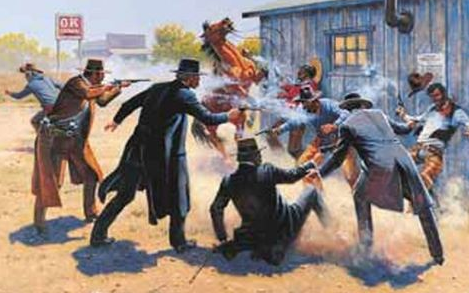 VERSE 5
THE MARSHALL STEPS OUT
FROM HIS HIDING PLACE,
HE AND BILLY NOW MEET
FACE TO FACE.
A GUN FIGHT ENSUES
MANY MEN GO DOWN,
BILLY'S MEN NOW
DEAD ON THE GROUND.
MELODY CHANGE-CLOSING
IT'S JUST THE MARSHAL
AND BILLY ALONE,
SEVERAL SHOTS ARE HEARD
AND A PITIFUL MOAN,
WHEN THE TOWN WAS
PUT TO THE TEST,
THEY BACKED THE MARSHAL
WHO PUT BILLY JOE TO REST!!
&copy Copyright 2013 , All rights Reserved. Written For:
Judy Lee's Music | Wonderful Heart Warming Music