By Judy Lee Jenkins,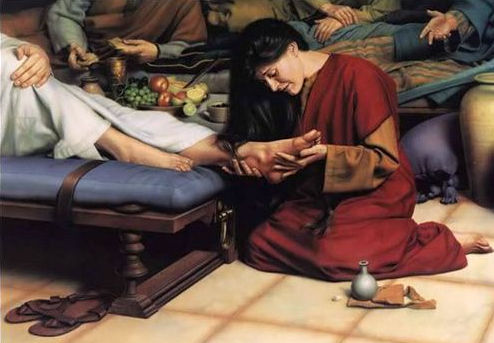 There are so many beautiful stories in the Bible but one of my favorites is the story of the woman who washed Jesus's feet with costly perfume, her tears and her hair. Love is what motivated this woman. Perhaps she had many sins and when she found Jesus, she found great forgiveness.
Perhaps she was so thankful to Jesus for that forgiveness and being motivated by that tremendous love for that forgiveness and what it meant to her, she could hardly contain herself.
In that day and place women were not held in high esteem but she found that Jesus cared about her and no doubt taught her many beautiful things. In spite of any criticism that she knew she would find, she acted out of her impulse to show her love for Jesus. In those days people had to walk the terrain a lot and their feet no doubt got very tired, sore and dusty.
Foot washing was very necessary and Jesus did it for his own disciples and taught them to do it for others.
Here is the story now of the woman from Bethany who washed Jesus's feet put to poetry and a melody that I have written:
THE FEAST OF PASSOVER WAS IN JUST A FEW DAYS,
AT THE HOME OF A FRIEND JESUS WENT TO STAY.
SOME PHARISEES AND JUDAS WERE ALSO THERE,
HOPING TO TRAP JESUS IN SOME KIND OF SNARE
THEN IN WALKED A WOMAN WITH EXPENSIVE PERFUME.
AS SHE OPENED THE JAR, IT'S SWEET SCENT FILLED THE ROOM.
NOT A DROP DID SHE SPARE OR ATTEMPT TO HOARD,
BUT FREELY POURED THIS TREASURE ON HER MASTER AND LORD!!
MELODY CHANGE
THEN SHE KNELT BEFORE JESUS AND BEGAN TO WEEP,
AND HER TEARS LIKE A FOUNTAIN FELL ON HIS TIRED DUSTY FEET.
TENDERLY WITH LOVE, DEVOTION AND CARE,
SHE THEN WIPED HIS FEET WITH HER LONG FLOWING HAIR.
VERSE 2
"INDECENT!!!" SCOFFED THE PROUD, "SHOW THIS WOMAN THE DOOR!!
SHE'S WASTING THIS OIL THAT SHOULD BE SPENT ON THE POOR!""
AS SHE HEARD THE COMPLAINTS SHE JUST JUST DIDN'T CARE,
AND CONTINUED TO WASH JESUS WITH HER OIL, TEARS AND HAIR.
AMAZED JESUS SAID, "LEAVE THIS WOMAN ALONE,
WHAT A BEAUTIFUL THING SHE DONE IN THIS HOME!!
DO NOT MURMUR AGAINST HER, NOT ONE OF YOU SEE,
FOR MY DEATH AND BURIAL SHE HAS ANOINTED ME!!"
melody change
"THE POOR AMONG YOU WILL ALWAY BE HERE,
BUT MY TIME OF LEAVING IS SOON DRAWING NEAR,
SHE HAS PROVED HER HEART PURE IN EVERY WAY,
HER ACT OF LOVE FOR ME, (Music building to a climax)
HER ACT OF LOVE FOR ME,
HER ACT OF LOVE FOR ME,
WILL BE A MEMORIAL TO HER FROM THIS DAY!!!!!!!"
&copy Copyright 2013 , All rights Reserved. Written For:
Judy Lee's Music | Wonderful Heart Warming Music