By Judy Lee Jenkins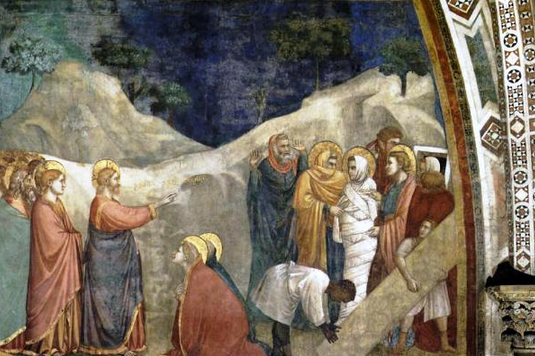 When Jesus was on earth, HE performed many marvelous miracles.  He walked on water,  healed the sick, gave sight to the blind and on more than one occasion restored life to the dead.  One such marvelous occasion was the rising of Lazarus, the brother of Mary and Martha and a wonderful friend to Jesus.  When Lazarus was very gravely ill,  a message was sent to Jesus to come promptly and heal him and restore his health as he had done for so many others.  However, Jesus did not plan to make Lazarus well, not yet.  This was the time Jesus planned a great miracle, not only to restore life to Lazarus after he died but to wait until he actually was decomposing in his tomb.  Only deity could perform such a miracle!!  Jesus would also restore his flesh.  Mary and Martha told Jesus their brother had been in the tomb for 4 days!!
     This wondrous story gives hope for us today.  Those of us who have lost loved ones can look at this story and realize that if their lives are in the hands of Jesus, death is not the end but the beginning.  Why, because Jesus came "that we might have LIFE and have LIFE more abundantly."  HE  is our LIFE GIVER.   Just as water is life for every living thing on this earth, Jesus is our LIVING WATER.  And after Jesus died HIMSELF on the cross, HE the LIFE GIVER had the power to take up HIS own LIFE and rise from the dead as well!!    What great hope is our Jesus, for HE truly is "THE WAY, THE TRUTH AND THE LIFE."  Reflecting on these marvelous thoughts, I wrote the following song from the gospel of John:11.  I put the story to prose and a beautiful melody of my own creation.
       A MESSAGE CAME TO JESUS THAT HE SHOULD PROMPTLY COME,
AND HEAL A MAN NAMED LAZARUS LIKE FOR OTHERS HE HAD DONE,
BUT JESUS WAITED 2 MORE DAYS UNTIL HIS FRIEND HAD DIED,
THE SISTERS, MARY AND MARTHA WERE QUITE UPSET AND CRIED!!
     THEY WONDERED WHY JESUS WAS SO LATE TO ARRIVE,
"OH  LORD, IF YOU'D COME SOONER, HE'D STILL BE HERE ALIVE!!"
WITH COMPASSION JESUS SAID HIS DEATH WAS NOT THE END,
AND THAT THEIR DEAR BROTHER WOULD RISE AND LIVE AGAIN.
     INTERLUDE
"MARTHA, MARTHA, DO YOU BELIEVE THIS?
MY WORDS ARE TRUTH,
I SPEAK NOT AMISS,
MARTHA, MARTHA, DO YOU BELIEVE THIS?
DO YOU BELIEVE THIS?"
     MARTHA SAID, "YES LORD, I KNOW HE'LL RISE IN THE RESURRECTION
ON THAT LAST DAY",
THEN JESUS REPLIED, "MARTHA, I AM THE RESURRECTION,
THE LIFE THE WAY,
IN ME IS LIFE AND TRUTH ON WHICH YOU CAN RELY,
WHOEVER LIVES AND BELIEVES IN ME THOUGH DEAD,
WILL NEVER DIE."
     THEN JESUS WENT TO THE TOMB AND SAID, "ROLL AWAY THE STONE",
MARTHA PROTESTED WITH A SIGH AND GROAN,
AND AS SHE DID HER HANDS BEGAN TO TIGHTLY CLENCH,
"BUT LORD, IT'S BEEN 4 DAYS, BY NOW THEY'LL BE A STENCH!!"
    INTERLUDE
"MARTHA, MARTHA, DO YOU BELIEVE THIS?
MY WORDS ARE TRUTH,
I SPEAK NOT AMISS,
MARTHA, MARTHA, DO YOU BELIEVE THIS,
DO YOU BELIEVE THIS?"
     JESUS KNEW FOR GENERATIONS
WOULD BE TOLD THIS WONDROUS STORY,
THEN SAID, "MARTHA BELIEVE AS YOU WITNESS
TODAY GOD'S GREAT GLORY!!"
     "LAZARUS COME FORTH!!"  JESUS CRIED LOUD AND CLEAR,
A MIRACLE WAS MARVELED BY THOSE STANDING NEAR,
THEY REJOICED TO KNOW THAT JESUS TOOK AWAY THE DOOM,
BY RAISING UP A MAN WHO CAME FORTH FROM THE TOMB!!
     CLOSING– MUSIC BUILDS UP
      AND WE HAVE THE SAME ASSURANCE WITH US TODAY,
BECAUSE JESUS IS OUR HOPE,
HE'S OUR LIFE, OUR TRUTH AND WAY!!!!
&copy Copyright 2013 , All rights Reserved. Written For:
Judy Lee's Music | Wonderful Heart Warming Music