By Judy Lee Jenkins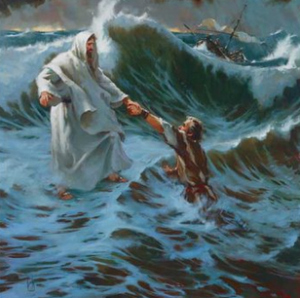 Song written by myself–inspired by the picture below and Matthew 14:25-31-and because of the storms I have personally experienced in life-I put this song in d minor to give it a heavenly beautiful melody LIKE THE SHIP THAT'S TOSSED BY THE WAVES OF THE SEA, THE STORMS OF LIFE HAVE ALSO TOSSED ME. I HAVE FELT I WAS SINKING TO THE DEPTHS FAR BELOW, IN THE DARKNESS OF THE NIGHT. BUT JUST IN TIME, I SAW MY SAVIOR'S LOVING FACE IN HIS HOLY RADIANT LIGHT.
CHORUS
MY LIFEGUARD WALKS ON WATER, WHY SHOULD I BE AFRAID? HE'S THE MASTER OF THE OCEAN, EARTH AND SKIES, WITHOUT HIM, NOTHING WAS MADE, THAT WAS MADE!! (JOHN 1:3)
MY LIFEFUARD WALKS ON WATER, WHY THEN SHOULD I FEAR? HE PROMISED HE WOULD NEVER LEAVE ME OR FORSAKE ME, I FEEL HIS PRESENCE NEAR!!
VERSE 2
LIKE PETER WHO WAS SINKING IN THE DEPTHS OF THE SEA, JESUS' LOVING ARMS WERE ALSO THERE FOR ME!! WHEN PETER CRIED OUT, "SAVE ME LORD!!" I CRIED OUT AS WELL!! "PULL ME OUT LORD, I'M SINKING FAST SAVE ME FROM THE ABYSS OF HELL!!"
CHORUS–REPEAT
&copy Copyright 2013 , All rights Reserved. Written For: Judy Lee's Music | Wonderful Heart Warming Music