by Judy Lee Jenkins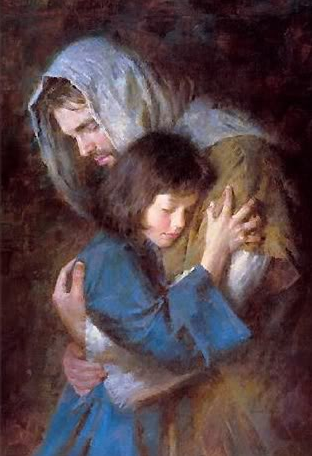 Life can be such a challenge at times. It can be full of complicated circumstances and trials that seem unbearable. The Bible never indicates "if" these things happen but "when" they happen we should always look up to our great comforter.
HE said that when we pass through the waters HE will be with us and that HE would never leave or forsake us. Like the FOOTPRINTS IN THE SAND story HE will even carry us through our trials. Reflecting on these thoughts, I wrote the following song:
OUR GREAT COMFORTER
WHEN YOU FEEL FORLORN AND TIRED
AND EVERYTHING GOES WRONG,
WHEN LIFE SEEMS OVER WHELMING
AND YOU THINK YOU CAN'T GO ON.
JUST LOOK INTO THE HEAVENS,
LOOK UP BEYOND EACH STAR,
AND KNOW GOD WATCHES OVER YOU,
HE'S REALLY NOT THAT FAR.
verse 2
WHEN YOUR DAYS ARE FILLED WITH SADNESS,
GRIEF, DOUBT, AND MUCH DESPAIR,
AND ALL THE THINGS YOU HOPED FOR
SIMPLY ARE NOT THERE.
LOOK UP INTO THE HEAVENS
LOOK UP BEYOND EACH STAR
AND KNOW GOD WATCHES OVER YOU,
HE'S REALLY NOT THAT FAR.
melody change
HE WILL CARRY ALL YOUR BURDENS
AND TAKE AWAY YOUR FEARS,
BARE THE PAIN OF ALL YOUR SORROWS,
AND WIPE AWAY YOUR TEARS.
JUST LISTEN, YOU WILL HEAR HIM
KNOCKING AT YOUR DOOR,
IF YOU JUST WILL ANSWER,
HE'LL LIVE WITH YOU FOREVERMORE.
THEN SOME DAY HE WILL LEAD YOU
AND TAKE YOU BY THE HAND
ALL YOUR SORROW WILL BE OVER
WHEN YOU REACH THAT PROMISED LAND.
&copy Copyright 2015 , All rights Reserved. Written For:
Judy Lee's Music | Wonderful Heart Warming Music