By Judy Lee Jenkins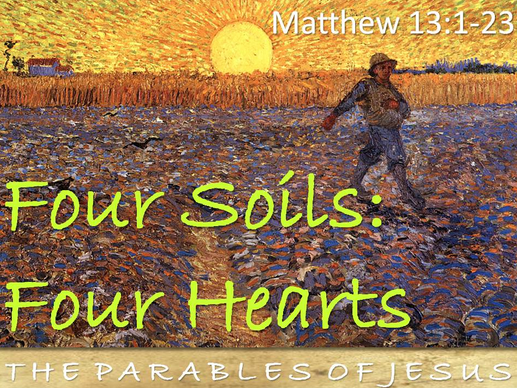 Jesus, the MASTER teacher often taught in parables.  Parables were always stories about people, animals or things that the people could relate to. Each parable had hidden meanings in them not intended for those with calloused hearts.  Jesus revealed the mysteries of heaven within his parables but only those who loved Jesus and desired to follow HIM truly understood the meanings within them.  HE told them that if they would receive HIS parables and had pure hearts to understand them that they would not only receive the secrets of the Kingdom of Heaven but would be given even more.  HE admonished them to have ears to ears and eyes to see the things that HE was teaching them through these parables.  The religious establishment of that day often turned a deaf ear to these parables and Jesus said that they would be "ever hearing but never understanding, ever seeing but never perceiving."
Reflecting on this, and reading Matthew:13, I wrote a song about one of Jesus wondrous parables of the farmer and the seeds.  The lyrics are as follows:
A MULTITUDE OF PEOPLE GATHERED
AS JESUS SAT BY THE SHORE,
THEY DEARLY LOVED HIS PARABLES
AND WANTED TO HEAR MANY MORE!!
WHEN JESUS SPOKE
HIS WORDS PIERCED THE HEARTS
OF THOSE WHO SOUGHT AFTER HIM,
THEY WANTED A LIFE WORTH LIVING,
A LIFE SET FREE FROM ALL SIN.
(Jesus now telling parable)
A FARMER SEWED SEEDS AND SCATTERED THEM,
HERE AND THERE ON THE GROUND,
BUT THOSE THAT FELL ON THE PATH,
BIRDS ATE UP ALL THEY HAD FOUND.
SOME FELL ON ROCKY PLACES
AND SPRANG UP QUICKLY ON SHALLOW SOIL,
BUT WITHOUT GOOD ROOTS SOON WHITHERED AWAY,
NOT WORTH THE FARMER'S HARD TOIL!!
CHORUS-THEN JESUS SAID,
HE WHO EARS LET HIM HEAR,
HE WHO HAS EYES LET HIM SEE,
THE MYSTERIES OF HEAVEN ARE GIVEN TO HEARTS,
UNCALLOUSED AND PURE BEFORE ME!!
(Jesus continues)
OTHER SEEDS FELL AMONG THISTLES AND THORNS,
THE SEEDS' ENEMY AND FOE,
AND CHOKED THEM OUT BEFORE THEY SPRANG FORTH,
AND EVEN HAD A CHANCE TO GROW!!
BUT THE SEEDS THAT FELL ON VERY GOOD SOIL
WHERE NOTHING AMISS DID GO WRONG,
PRODUCED A CROP A HUNDRED TIMES MORE,
BECAUSE THEY WERE HEALTHY AND STRONG!!
WE ARE LIKE THE SEEDS THAT ARE SEWN,
IN RECEIVING (OR PERCEIVING) THE MESSAGE OF GOD,
IF WE SPREAD THE NEWS OF THE KINGDOM WITH JOY,
IT'S BECAUSE WE FELL ON GOOD SOD!!
LET NOT THE THORNS CHOKE OUT GOD'S WORD,
OR FROM IT EVER DEPART,
OR SATAN SNATCH AWAY GOD'S LOVE
THE LORD HAS SEWN IN OUR HEARTS!!
CHORUS
HE WHO HAS EARS LET HIM HEAR,
HW WHO HAS EYES LET HIM SEE,
THE MYSTERIES OF HEAVEN ARE GIVEN TO HEARTS
UNCALLOUSED AND PURE BEFORE ME!!
&copy Copyright 2015 , All rights Reserved. Written For:
Judy Lee's Music | Wonderful Heart Warming Music